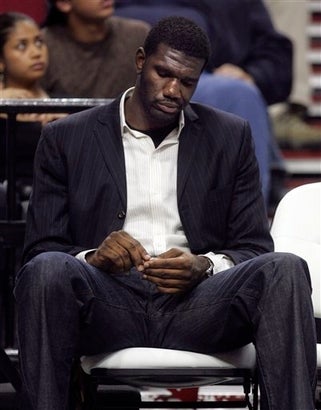 Um so…did I mention I am also recovering from a sinus infection? How about a YouTube clip of children using obscene language?
Awwwww, right? So this guy I kind of know predicts the Blazers will beat the Rockets, only to be "schooled" as the saying goes by the Lakers, but adds that it will be "valuable experience for this promising young team," which is sort of how I feel about all my humiliations minus I guess the parts about "young" and "promising."
I find it always helps whenever I am writing about a challenging new topic to find sympathetic characters to whom I can relate and reading the internet I am starting to feel like this Greg Oden guy might understand. If A.J. fires me tonight maybe I'll just start a screenplay about what would happen if we met and by some unlikely sequence of events found ourselves charged with looking after an ethnically-diverse passel of potty-mouthed pipsqueaks, like a sort of fusion of Ghost World and Dangerous Minds. Probably though I will just get drunk.