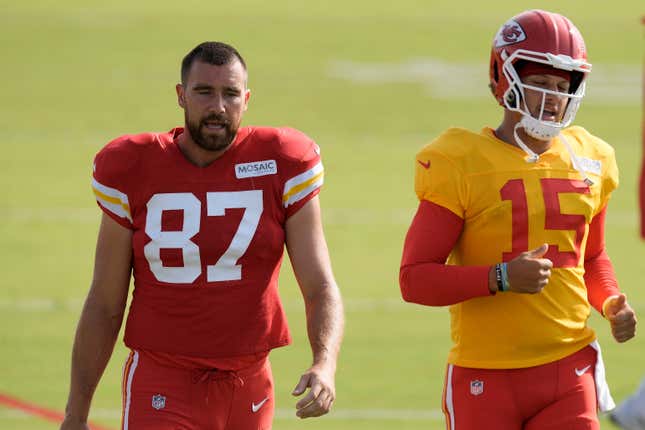 A crude trait most human beings possess is that we enjoy watching people fight. It's the reason that football is the most popular sport in America, and prize fights generate millions in pay-per-view sales all over the world. In a controlled setting governed by bells and whistles, physical confrontation is a strategic battle of strength and wit. However, when unofficiated, fights are a disruption to the business of the day. That is why Travis Kelce issued a public apology for disrupting the Kansas City Chiefs training camp twice by fighting, and the Tennessee Titans released Jamarco Jones on Thursday.
Which NFL Bros reign supreme? Watt or Kelce?
For observers, training camp fights fun wrinkle to the day, and many players — as well some self-designated tough guys on Xwitter — will say that fighting is a natural part of football, especially during that time of year. Daily practice with no regular-season game in sight is not the most enjoyable part of the job for players.

Mike Vrabel does not care what fake or real tough guys think about fighting. He takes those moments for what they literally are, a lack of composure and a waste of time. Players are paid to play a physical game and should act like professionals. When a fight takes place in practice, the time spent breaking it up is wasted. That is time that players should be spending working to get better at a sport in which practice time is limited by the CBA. Sending people to practice individually in a hot Tennessee sand pit is an excessive punishment, but I get where Vrabel is coming from.

Also, throwing a punch in a game is an automatic ejection. Kelce is a veteran and one of the best players in the NFL. It would be safe to assume that he would know better than to do something that rash in a game, but he should also exercise composure in practice. He's a leader and at worst his temper tantrums come off as bullying. At best, he was hot, frustrated, and unprofessional.
Jones was reportedly involved in two fights this week, and when talking to the media Vrabel basically said the former took a cheap shot at a linebacker. Unlike Kelce, Jones is a reserve offensive lineman who had a shot at a temporary starting tackle position while Nicholas Petit-Frere is serving a six-month gambling suspension. The star has to be forgiven, the backup is a troublemaker.

I'm not trying to come off as better than anyone else. I spent five extra minutes at 7-Eleven yesterday watching a fight across the street. Michael Westbrook ground-and-pounding Stephen Davis at training camp is one of my favorite sports memories of all time. I still regularly tell the story of a guy I saw get sucker punched by security at a South Beach bar in 2008.
All of that being said, just because something is fun does not negate it being counterproductive. If The Tamale Guy showed up unannounced on the sidelines during Chicago Bears training camp, it would be fun but also put the team behind schedule, and security would be in trouble for letting him anywhere near the field without prior notice.

Of course, it is not completely fair that Jones lost his job and Kelce is possibly on his way to another All-Pro team after committing the same offense, but Jones showed a lack of awareness as well as composure. Here he is working to earn an open spot on the Titans roster and he disrupts practice multiple times with the head coach's pet peeve, and has no All-Pro potential to show for it.

For the sake of his career, hopefully, Jones has learned a valuable lesson. Kelce, it would benefit the Chiefs greatly if he goes the rest of the season without punching a teammate, but if he did at every practice the rest of the year he would still be the Chiefs' top pass catcher. Those are the breaks. All talent levels are not treated the same.

And as fun as training camp fights are to watch and share on social media, they are disruptive and waste time.