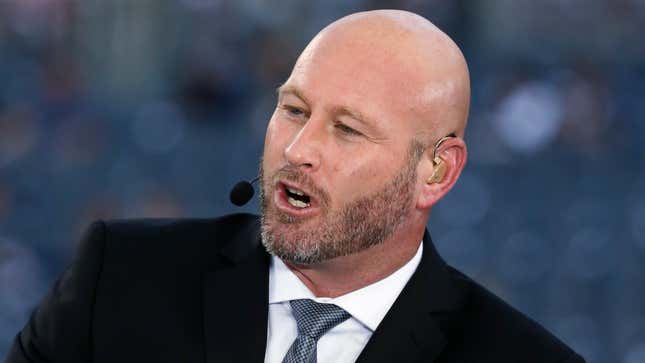 Laying the groundwork is important. Sometimes that includes letting people know you're not to be played with.
Is Brock Purdy the most relevant Mr. Irrelevant of all time?
Former ESPN analyst and Super Bowl-winning quarterback Trent Dilfer recently put FBS head coaches on notice when he dared them to tamper with players inside of his program, as he's now the head coach at UAB.

"By the way, come try to get my guys," Dilfer declared on a recent episode of the Rick & Bubba Show. "I dare you Power Fives. I gotta pretty big platform that I could step on. And if I find you in my kids' DMs, and if I find you talking to high school coaches about my kids — if you're in my roster, I'm gonna call your ass out.

"I'm gonna say it by name to the biggest voices in television today, and it's gonna make (College) Gameday. And it's gonna make SportsCenter. Because, by the way, those guys still running SportsCenter are still my friends.

Dilfer then went for the jugular by explaining that he believes that coaches outside of the Power Five don't do what he's threatening to do because they want Power Five head coaching positions, and he doesn't. Dilfer claims that "he wants this job" and that he "wants to live in Birmingham."

"Having the opportunity to lead such a quality program like UAB is one that I am beyond excited about," Dilfer said in a statement when he was hired. "The investments the university has made for UAB Football aligns with my vision of taking this program to new heights as we join the American Athletic Conference and compete annually for the highest prize of playing in the College Football Playoff."

We need a coach, or two, to try to get one of Dilfer's players to jump into the transfer portal just to see if he'll go through with it. But even if they don't, Dilfer is claiming that he will say names, which is something that most coaches don't do. Just last year, Nick Saban went on a tangent about cheating when he went after Jimbo Fisher and Deion Sanders because they either had better recruiting classes than him or signed a player he couldn't — or didn't think should wind up at an HBCU like Jackson State. Saban didn't say Fisher's and Sanders' names, but he made it clear who his allegations were aimed at — which was cowardly.

According to Axios, at least 8,699 college football players entered the portal between Aug. 1, 2022, and May 1, 2023, which was more than last year's record of 8,242, and way more than the 4,076 from the inaugural 2018-19 cycle. A little over 3,200 of those players were on the FBS level, equaling about a 20-plus percent transfer rate. Like coaches, players are on the move for better opportunities and bigger paydays — at times — through NIL.

Hopefully, some coach will try to poach one of Dilfer's players with the idea of playing on a bigger stage than UAB and the American Athletic Conference can provide. Only then will we know if Dilfer is truly a man of his word. But, by setting this precedent Dilfer has put himself in a predicament. Making a statement like he has, plus winning, is the fastest way to get on the radar of an athletic director at a Power Five school who may have a coaching vacancy to fill in the future.