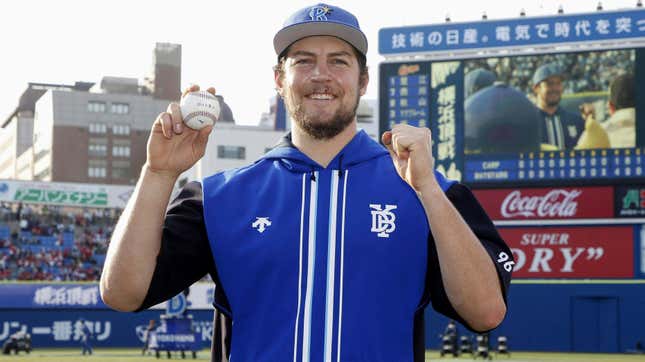 After posting a sparkling ERA of 8.40 and 1.867 WHIP, the Yokohama DeNA BayStars of the Japanese league have sent former Dodger pitcher Trevor Bauer down to the minor leagues. You hate to see it.

Dodgers World Series guarantee was trash! | Trash Talkin' Tuesday
To recap: Ex-Los Angeles Dodgers pitcher Trevor Bauer sued us and lost; couldn't find employment here in the States, so he ended up in Japan with the Yokohama DeNA BayStars of the Japanese Central League; and is already alienating teammates in the Land of the Rising Sun.
He's also pitching like absolute shit.
Bauer gave up seven runs for the second straight outing, with his ERA ballooning to 8.40 in the process.
Of those eight hits, one was an absolute blast off the bat of Hiroshima outfielder Ryoma Nishikawa:
Is Trevor Bauer rusty? Sure. Do we care? No
Bauer is two years removed from playing in the Majors — he went 8-5 with a 2.59 ERA in 17 starts in 2021, a season after winning the National League Cy Young with the Cincinnati Reds — but he doesn't have our sympathy (or sympy, if you're Scott Steiner.)
"I've stayed ready," Bauer said after making a minor league start in April. "I didn't feel like I'd been away at all. It didn't speed up on me. I commanded the ball. There really wasn't any adjustment."
Through his three starts for Yokohama, the 32-year-old Bauer has served up 26 hits, and 14 earned runs in just 15 innings pitched. He's earning $3 million USD for one year.
"They really hit him well," BayStars manager Daisuke Miura said after his team's loss to the Carp. "It's not only about how hard you throw."