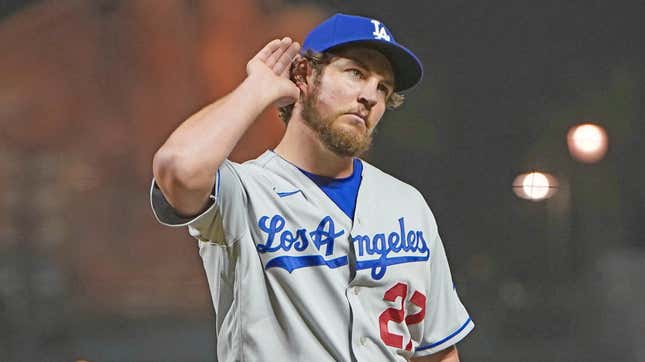 Here's the news: Trevor Bauer has been placed on week-long administrative leave and did not make his scheduled July 4 start.

Bass' ERA stinks, but not compared to who he is off the mound | Worst of the Week Countdown
Bauer, accused of sexual assault and battery, described in excruciating detail by The Athletic, is just the latest star athlete accused of violence against women.

He should never make another start for anyone.

From The Athletic:

The woman said she told him she thought her body was having a trauma response. Bauer, the woman said, asked if she had ever been hit before. She told him she had not. She said he then told her he was going to take a shower.

The woman, who is 27 years old, provided multiple pictures as part of the request to the court. In those photos, the woman's face is visibly bruised and swollen, including under both of her eyes. She also has a swollen jaw, bloodied lip and scratches to the side of her face.
Let's be clear: You totally don't have to give Trevor Bauer the benefit of the doubt. There is nothing in Bauer's reported actions or his lawyer John Fetterolf's statement that indicate an attempt to deny that he was responsible, only that her request for a temporary restraining order was "fraudulent" based on the omission of key details, and that what happened was consensual. Bauer's lawyer also claims to "have messages that show [the accuser] repeatedly asking for 'rough' sexual encounters."
"I agreed to have consensual sex; however, I did not agree or consent to what he did next," the victim told The Athetic. "I did not agree to be sexually assaulted."

We don't need an investigation and trial to know that she didn't consent to have her face beaten and to sustain head trauma. His legal team's response regarding the head trauma? While she was initially diagnosed with signs of a basilar skull fracture, a CT scan found no acute fracture.

(Update: After publication, Trevor Bauer's representatives emphasized that medical records showed that while the woman was initially diagnosed with signs of a basilar skull fracture, a CT scan found no acute fracture. It was unclear from previous reports what the basis was for the initial indication of a fracture.)
While other high-profile athletes continued to earn millions after allegations of violence against women, such as Aroldis Chapman, Ben Roethlisberger and Jameis Winston, none of them would be as damaging to their sport as Bauer. While the nature of the alleged assault should be enough, we live in the real world where every person is commoditized. You are as valuable as the wins you can produce and the dollars you can bring in for your team.

Bauer does those things, but he is more than that. He wants very much to be the public, outspoken face of the game. He's uber active on social media, getting into feuds with other players, punching down, Dave Portnoy style, by sending his massive following after a young woman even after she deleted a tweet.

Perhaps in an attempt to smooth over the misogynistic Twitter stylings, Bauer has sought to repair his image by making his agent Rachel Luba more prominent on Twitter and his appearances.
Regardless of the result of this investigation, which the Pasadena police appears to be dragging its feet on, we can be sure there will be a solemn mea culpas, some donations to charity, some sort of rehabilitation tour. Maybe Bauer and Luba holding puppies and spreading rainbows and pixie dust on IG to make it all go away.

Remember, less than 1 percent of rape cases end in a felony conviction. Nice system you got there, America. Benefit of the doubt? The system makes it virtually impossible to hold someone like Bauer accountable. Our justice system can "reasonable doubt" away anything and find technicalities so that even Bill Cosby can walk.

The court of public opinion, and MLB, do not owe Trevor Bauer that.
It would be positively shameful for this to happen. It would be a slap in the face to victims who are baseball fans. The women who work in baseball deserve better, the women in media who cover Bauer (like The Athletic's Katie Strang and Brittany Ghiroli, as well as Dodgers' beat writer Molly Knight, shouldn't have to deal with this cretin knowing he'll likely have a vendetta against him. No one should have to explain to their kid watching him pitch what "anally penetrated without consent" means.

We don't need Trevor Bauer. And we really don't need someone to provide the blueprint for future assaulters on how to make $100 million and rehab your public image with an attractive agent at your side.