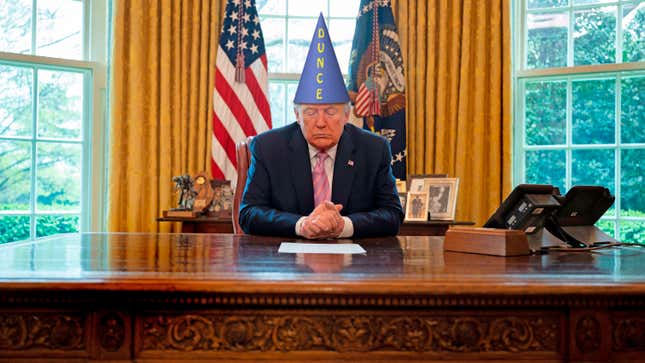 If 2020 has taught us anything, it's that irony can be cruel.

It's the only way to explain how the person (the "President") who claims to want college football back, is the same reason we won't have it.
"The student-athletes have been working too hard for their season to be cancelled. #WeWantToPlay," Trump added as he retweeted Clemson quarterback Trevor Lawrence on Monday.
That was followed by a "Play College Football!" tweet later in the day, and a hype video posted that evening.
As usual, the idiot in the Oval is clueless to what's going on, as Lawrence's original tweet was a unified statement from players like Ohio State's Justin Fields, Oklahoma State RB Chuba Hubbard, and others informing the world that they indeed want to play this season, but with caveats.
Establish universal mandated health and safety procedures and protocols to protect college-athletes against COVID-19 among all conferences throughout the NCAA
Give players the opportunity to opt out and respect their decision
Guarantee eligibility whether a player chooses to play the season or not
Use our voices to establish open communication and trust between players and officials; ultimately create a college football players association
Representative of the players of all Power 5 conferences
And why are these requirements a must?
Because Trump and his cronies are the ill-equipped culprits in the mismanagement of a virus that has killed over 164,000 Americans. To no one's surprise, the same man that fed the sport's national champions fast food, wants them to play during a pandemic, without a plan, as the virus is causing some in the sport to have myocarditis, a lethal heart disease.
Back in March, it felt like a given that the NFL and college football seasons would happen, although we were living in a moment in which the NCAA tournament was canceled, the Olympics were being pushed back, and the NBA was on hold.
Surely we'd have this thing figured out by September, right?
Wrong.
On Sunday, Slate released a report that "documents Trump's interference or negligence in every stage of the government's failure: preparation, mobilization, public communication, testing, mitigation, and reopening," when it comes to how this administration has failed America, and consequently college football, when it comes to the coronavirus.
A lot of this happened because Trump got rid of the National Security Council's pandemic unit that had been set up by the Obama administration. Trump also proposed budget cuts to the Center for Disease Control and Prevention, a place that he ignores. Similar to what he does to Dr. Anthony Fauci.
From Slate:
"To keep the numbers low, Trump was willing to risk lives. He figured that infections didn't count if they were offshore, so he tried to prevent infected Americans from setting foot on American soil. In mid-February, even as he refused to bar Europeans from entering the United States, he exploded in anger when more than a dozen infected Americans were allowed to return from Japan. "I hated to do it, statistically," he told Hannity. "You know, is it going to look bad?" In March, he opposed a decision to let passengers off a cruise ship in California. "I'd rather have the people stay" offshore, he explained, "because I like the numbers being where they are. I don't need to have the numbers double because of one ship."

When the spread of the virus in the United States could no longer be denied, Trump called it the "invisible enemy." But Trump had kept it invisible. The CDC would later acknowledge that due to woefully insufficient testing, the overwhelming majority of infections had gone undiagnosed. Models would show that by mid-February, there were hundreds of undetected infections in the United States for every known case. By the end of the month, there were thousands."
By April, Trump was on a conference call with sports commissioners discussing the country's response to COVID-19, as he wanted sports to return by the end of the summer. Instead of understanding that sports are a manifestation of a functioning society, the "President" was more concerned with getting the sports calendar back on track than fixing the issue that sidelined it in the first place.
And as the number of positive tests and deaths began to skyrocket, it became clear that Black Americans were suffering more than anyone. It got so bad that even Trump noticed.
"Why is it that the African-American community is so much, you know, numerous times more than everybody else?" he asked during an April press briefing. "It doesn't make sense, and I don't like it."
A month later, that concern disappeared as the actions of Trump's administration led to the American political and financial elite "regarding the rising death toll less as a national emergency than as an inconvenience," wrote The Atlantic's Adam Serwer. "In East New York, police assault Black residents for violating social-distancing rules; in Lower Manhattan, they dole out masks and smiles to white pedestrians."
Ironically — there goes that word, again — over 50 percent of the players that make up college football rosters are Black, the same group that's being affected the most by coronavirus.
Trump is asking a sport that's built on the backs of unpaid Black athletes to return, even though they're at the greatest risk, all for the sake of entertaining a country that's over 75 percent white.
Let me be clear, the "President of the United States of America" is asking Black people to sacrifice themselves for the greater good, when the greater good has never done anything great for Black Americans.
But, this goes beyond race. It's also about money.
According to reports, Power 5 football conferences could lose up to $4 billion without football this year, which is an average loss of $62 million in football revenue per school. For instance, in 2018-2019 Auburn's football program accounted for $95.1 million of the athletic program's $152.4 million revenue. These are the reasons why schools like Nebraska are doing everything they can to have a season.
This upcoming fall will be bleak. The sounds of bands playing at halftime won't exist. Homecomings have been, and will be, shutdown. And right now, tailgates are a no-go.
Saturdays in the fall are an American religion, but we're stuck with a cultural atheist in the White House. It's why I'm proposing that we treat this upcoming Election Day as if it was the College Football National Championship Game.
Because if you love college football and all of the tradition and pageantry that comes along with it, vote out the person that's the reason why this year's edition is canceled.