Budgets are where political and moral priorities get stated. How sick are our priorities today?
Earlier this week we learned that the New York City Housing Authority—which provides housing for several hundred thousand people in New York, and has more than $17 billion in capital improvement needs it cannot pay for—will have its federal aid budget cut by $35 million this year. It is hard to understand the logic of slashing money for already absurdly underfunded public housing in a city experiencing a housing crisis. Today we learn that was just the beginning.
The Washington Post reports that preliminary budget plans from the Trump administration call for a $6 billion cut in the budget of the Department of Housing and Urban Development—14% of the agency's budget. This, to help support a huge increase in defense spending. From the WaPo:
Budgets for public housing authorities — city and state agencies that provide subsidized housing and vouchers to local residents — would be among the hardest hit. Under the preliminary budget, those operational funds would be reduced by $600 million, or 13 percent. Funds for big-ticket repairs at public housing facilities would be cut by an additional $1.3 billion, about 32 percent. That could have a major quality-of-life effects on the low-income families who rely on public housing: Tens of billions of dollars in backlogged repairs already plague the country's 1.2 million public housing units, according to a 2010 HUD report.
The proposal would also cut billions of dollars in grant money currently earmarked to help improve poor neighborhoods.
Let us all, Republican and Democrat alike, be very clear about what is happening here: The plan is to cut money used to give millions of our nation's poorest people roofs that don't leak over their heads, and spend that money on weapons of war. This is the priority we are set to adopt. This is what our nation voted for. More money for defense contractors and less money for housing for the poor, despite the fact that housing for the poor is already a horribly underfunded area.
G/O Media may get a commission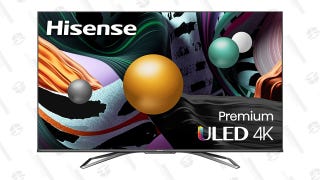 Save $350
Hisense ULED 65" Android 4K HDR Smart TV
Fuck this guy and everyone in Congress who enables him. Every elected leader in Washington should have to live in the projects.