It's been 11 years since Lance Armstrong won his last Tour de France. In the intervening years, cycling has undergone a series of reforms aimed at making the sport, above all else, trustworthy. Lance Armstrong became one of the most hated athletes of all time not because he cheated, but because his pathological need to be believed led him to lie on national television, threaten the wives of his teammates, and make militantly haughty commercials for Nike. He was never sorry; his downfall didn't come down to his doping, it was because of the lying.

A decade removed from Armstrong's USPS teams throttling pelotons into submission, the cycling world has finally found a successor. British powerhouse Team Sky has only been around for seven years, and they've already won the Tour de France four times. Chris Froome is the most dominant Grand Tour rider since Armstrong. Their budget is at least twice that of most of their competitors. Thanks to the systemic cover-up perpetrated by USPS, every dominant cycling team from here to eternity will be plagued by doping questions, and part of what sets Team Sky apart is an apparently ironclad commitment to clean cycling.
Manager David Brailsford has hailed the value of "marginal gains" and the team has insisted that all riders sign a written pledge denying any past or present involvement with doping. Anyone who steps afoul of that rule gets booted off the team, like Jonathan Tiernan-Locke did in 2013 amid uncertainty about his biological passport (which is a tracking system that measures certain physiological values over time). As Brailsford himself said in 2011, "The whole point of our team is to try and demonstrate that it is possible to cycle clean and compete at the highest level."
The degree to which that is true is now under question. Russian hackers released WADA records showing a series of oddly timed therapeutic use exemptions (TUEs) that Sky obtained for Froome and 2012 Tour de France winner Bradley Wiggins. A TUE allows an athlete permission to take otherwise illegal drugs (in those case, corticosteroids) for legitimate medical reasons (pollen allergies for Wiggins, asthma for Froome).
G/O Media may get a commission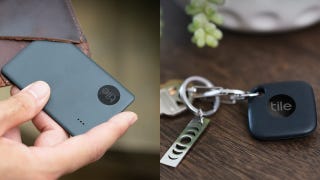 Up to 35% off
Tile Item Trackers
The data show that Froome obtained TUEs to use prednisolone before the 2013 Criterium Dauphine and the 2014 Tour of Romandie. The UCI fast-tracked both applications, allowing Froome to race (and eventually win) both times. Wiggins received a number of TUEs to use an inhaler before certain races as far back as 2008, but more intriguingly, Wiggins received TUEs just days before the 2011 and 2012 Tours de France and the 2014 Giro d'Italia for an intramuscular injection of triamcinolone acetonide. Typically, such an injection requires eight days off from racing; in the 2011 case, the TUE was approved three days before the Tour started. As CyclingNews notes, triamcinolone acetonide is seen as the most powerful drug used to treat hay fever; it certainly comes with a performance advantage, and cycling star Tom Dumoulin has already publicly said that Wiggins's case "stinks."
Nothing here shows that Team Sky cheated. Former Vuelta a España winner Chris Horner told me last year that the process of getting a TUE is intensely regulated, and that the UCI had been overly thorough with insuring that medicine he took to treat a bronchitis infection abided by its regulations. Froome had publicly acknowledged his 2013 TUE before the hack, and has come out and called for stricter TUE regulations.
However, these steroids are powerful and Wiggins's case in particular is cloudy. Team Sky stayed silent in the immediate aftermath of the leak. Despite their very public hardline stance against doping, Sky never joined the MPCC (an organization of teams that self-impose harsher drug testing in an effort to improve cycling's image. This leak seems to explain why: The MPCC has asked the UCI to ban corticosteroids, and Sky was using them. The MPCC has since called out Team Sky.
Sky may not have run afoul of any UCI or WADA regulations here (in fact, the leaked documents reflect as poorly on both organizations as they do on Team Sky), but just like the Armstrong case, this is about optics. Doubt is an endemic feature of modern cycling. You are guilty until proven innocent, which is incredibly hard to accomplish without complete transparency into every facet of your medical life. If you are the most dominant team of your era and you go out of your way to make yourself out to be anti-doping crusaders, any dip into cycling's many legal grey areas makes you look like a hypocrite.
All of which is to say that if you can't trust Team Sky you can't trust anyone. Maybe you shouldn't.
Cycling fandom is an exercise in carefully suspended disbelief. Because of the audacity with which Armstrong and his team scaled up their doping operation, nobody will ever get the benefit of the doubt again, and as the current Team Sky clusterfuck shows, regulatory grey areas exist to be inhabited by aggressive teams. The problem is not with Team Sky for going after TUEs. It's their right to exploit the advantages the system allows them. WADA is a broken (and apparently hackable) farce of an operation and the UCI remains credible only so long as they appear to have a handle on doping. If the supposed poster child for credible cycling can't help but push the boundaries of acceptable physiological enhancements, then any prohibitions on doping aren't so firm as everyone wants you to believe.
Any belief that the top level of cycling is completely clean is a delusion, and another Armstrong-scale doping ring is an existential threat. Cycling's biggest problem is that nobody watches cycling (just look at the incredible sponsorship turnover over the past few years and the UCI getting in bed with increasingly shady people in an effort to dowse whatever quarries are left to mine.). If the sport were to lose what little credibility it has left, survival becomes a problem.
The only rules Team Sky broke, if indeed they broke any, were their own. They are still far more transparent than many other teams, and that's the problem. The UCI is caught between two untenable positions: clamp down even harder on doping and chase the bogeyman until it goes away (it won't), or widen the grey area and make the sport easier to regulate and harder to trust.