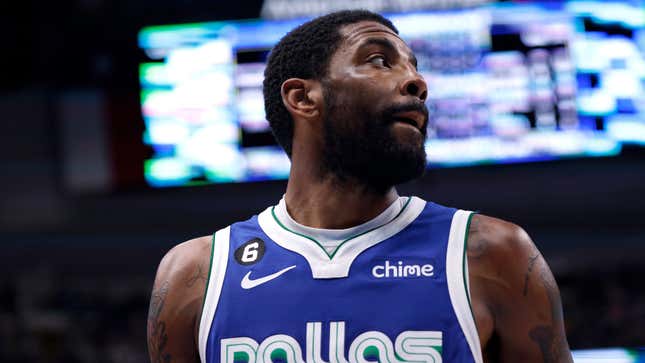 Kyrie Irving held a significant place in shoe culture up until he ran his mouth and got his Nike deal revoked. The mercurial point guard (pretty sure he single-handedly turned that phrase a cliche) consistently had the most popular sneaker at the company despite his on-again, off-again relationship with the basketball court. Well, now we're going to see if the man made the brand, or vice versa, because Irving just inked a five-year deal with ANTA, a Chinese shoe company that has NBA athletes under its umbrella, but isn't yet fully distributing in the U.S.

ANTA is not NIKE
That's like going from making movies at Disney to pedaling indie flicks in Prague, hoping to get picked up at Cannes. The deal affords Irving the opportunity to do things that sound good in Shams Charania tweets — like recruit other athletes and collaborators — but in reality is icing on the lucrative contract, frivolous language and lofty incentives designed to give a past his prime athlete the feeling that he's still squarely in it.
Look at that smile? Does that look like someone who's ashamed to be draped in clothes not currently available in stores?
The other big names on the ANTA team are Klay Thompson and Gordon Hayward, the latter of which has been with the company for years, but even Peak Klay couldn't bring ANTA into the broader conversation. (The Golden State Warriors shoe array also can be referred to as a lineup of death, but in a much more literal and negative connotation.)
Will Irving still resonate with the youth? Should you invest in ANTA stock? Who cares, but for the sake of this exercise, let's pretend somebody does
What does this mean for Kyrie Irving?
Well, aside from the millions of dollars and another round of generational wealth primed for Irving's bank account, it's ultimately a non-starter. His detractors can point and laugh at the misfortune and shame that accompanies this fall from the runway, but Irving himself can continue learning absolutely nothing from his actions.
While a lot of fans have become apathetic to the idea of Irving ever getting what's coming to him — and, really, no one should let that affect their day-to-day — the Dallas Mavericks should be paying close attention. They gave a $126 million, three-year deal to a guy who's as stubborn as he is talented in hopes that he'll be a perfect No. 2 next to Luka Dončić. Mark Cuban is essentially Luka's future with the franchise on Irving being engaged, healthy, and reliable, all of which aren't exactly Kyrie's strong suits.
Neither star plays defense, both can't be bothered to move off the ball, and the limited sample size we got last season ended with the Mavs tanking their way out of the play-in game, and then getting fined $750,000 for it. But maybe I'm overthinking it, and the humility that comes with removing the swoosh from his shoe — this time for real — will be enough to get through Irving's thick skull.
The mere acknowledgement that he's no longer good enough to merit a deal from a member of Big Sneaker could prompt a personal motivation in Kyrie that's been lacking ever since he hit that three in Game 7 of the 2016 NBA Finals.
I know, I know; that's a narrative only a sports writer could come up with, and one that crucially misstates why Irving is no longer a Nike athlete. It wasn't a dropoff in skill that doomed him; it was the antisemitic comments that he never fully showed remorse, or took accountability for.
He still thinks he's a max player (he certainly got paid like one), and once again has his own shoe, so if Kyrie Irving is successful by Kyrie Irving's metrics, why would he start doing things differently now?
Good luck, Dallas.