Welcome to Tuesday Night Fights, a weekly celebration and analysis of street-fight videos found on YouTube. Tonight's fisticuffs "Grandma Tells Kids to Fist Fight (Caught on Camera) Fighting," aka "Wilmington Delaware Fight!!!!" Tonight's commentator: My grandmother Leona, who is the best grandmother in the world.
If somebody hits you, you should hit them back. But luckily, my (six) kids did not start fights. I always told them not to hit anybody because they'll retaliate.

Watching this, I would have thought she'd try to break the fight up, try to stop it, not tell her grandson to hit someone. I'm not comfortable with what's going on. She didn't to anything to try to stop it. That's inappropriate. That doesn't make a kid tough.

When my kids were little, if I saw something going on like that, I would get cookies and walk outside and say 'Stop your fighting. Who wants cookies?' If it was because of some neighborhood bully, I would go to the parents, a teacher, but I would not tell the kids to fight.

Your mother didn't get into fights. Well, there was one time she got into a fight with a teacher. Not physically. Like, agitating them. She irritated Mr. P, a big strong guy, the basketball coach, one time and he hit her in the head with a history book. So I went down to the school and I told him don't you EVER do that to my child. He never did again.

Then there was the time, you were in the car, when your mother was leaving and pulled into the alley here. There was another car coming the other way and it refused to move. So did your mother. She did not back down. So, the other driver sent her husband out to say something. Your mother got out. Do you remember this? (Yes). Boy, she got in his face good. Now I know where your foul mouth comes from, Brian.

Would I go to the police about this woman? I don't think so. Someone should go say something to her. It's not like she hit the kid or anything. She should have taken the kid home, taken him out of the situation. If he fought all the time, I would try to avoid them playing together anymore. But, kids fight all the time. You could be fighting all the time over kids but in this situation, she should not have gotten mad at the other kid. She should have gone in and broken it up.
And now, the rest of your Tuesday Night Fights:
• Dude removes cardigan. Dude drops foe with a single punch. Dude told you this'd happen. Dude's cardigan is retrieved from the ground and placed atop a nearby car. Dude attempts to pull felled foe up off the street, unsuccessfully. Dude moves cardigan to back of vehicle. Dude finally helps foe to his feet. Sportsmanship. Respect. (Start of Violence, 0:10)
• Dear Teenagers of America, Please don't stand by and do nothing when you see someone's "dome" taking "major punches" repeatedly. Sincerely, Morality. (SoV, 0:03)
• They called this "must-see" video "kid gets hit by car during fight!" More like kid gets hit, hits car, amirite? Unless that dude's name is "car," in which case, apologies to all involved. Except the car. (SoV, 0:11)
G/O Media may get a commission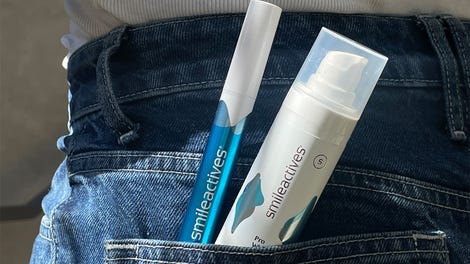 58% off
Whitening Powerhouse Pen & Gel Duo
• Your Shit's Getting Real Outside the Islanders Tavern PSA:
• Robin Street REPRESENT! (SoV, 0:11)
• Shit's poppin' off at the Memphis Wendy's, yo. As in, ""She slung drink over me and my four children. Don't know what that was about. She even threw her headset and she threw ranch. I don't think nobody's kids should have to go through no stuff like that." (SoV, after drink slungin' per this reaction news piece)
• She'll be punchin' another lady in the face by the train tracks when it comes. She'll will run so level and steady, when she flails... (SoV, instantly)
• Jay Money writes that he was L his AO about this varsity baseball locker room brawl and, by posting it, invites you to do so as well. (SoV, 0:52)
• The Why It's Not a Good Idea to Wield a Machete in a Police Station Case-Study:
• Your Weekly Philadelphia Phisticuffs Update: "Philly City Council Aide on Bar-Bathroom Fight: "Bald Beaver and All … I Pounded Her Face with My Fist" (Alas, no vid; just vivid account) Bonus Coverage: "Here's Video of That Society Hill Wedding Brawl That May Have Left a Man Dead Saturday Night." (SoV, instantly)
• From TNF Beijing Correspondent Anthony Tao: "The Most Disturbing And Bloody Subway Fight You'll See, With Biting [Graphic]." (SoV, ∞)
• Your semi-regular IHOP brawl update. (SoV, instantly)
• Time for the "Real or Fake" Poll Question of the Week (Letters Only):
• KNEEL BEFORE THE TITSY CHICK IN TIGHT JEANS!!! (SoV, instantly)
• Ginger Power! (SoV, instantly)
• Sneak preview of the long-anticipated rap-spittin' showdown flick "8 Kilometre." (SoV, 1:17)
• The I'm Not Sure If I've Seen This Before Intermezzo:
• TKO: Mario. (SoV, instantly)
• In " Girl fight each other on a street . :(" a pair of girls fight each other on a street. Frown. (SoV, 0:02)
• Wednesday Day Fight. (SoV, 0:20)
• Others: "Angry customer/naštvaný zákazník (T-mobile)." "Kid Sucker Punches Bus Driver in Kansas City.oct 2012." "columbia md howard county hood fight girl gets beat." "fight." "Serious fist fight in a Toy Factory attraction at California's Great America." "april vs marisha." "Ghetto Fight in My Neighborhood."
• Your Nihilist Tribute Artist FTW Coda!