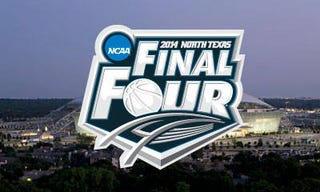 This season's Final Four will be the first time the semifinals are broadcast on cable. With that move comes the freedom to try something new: For both of the semifinal games, fans of each competing team will receive their very own broadcast.
Turner COO Lenny Daniels explained the idea of three different perspectives on three different channels to SportsBusiness Journal: The normal, national broadcast for each Final Four game will be on TBS. But TNT and TruTV will also carry the games, with the production focusing on one of the schools. They'll have different broadcasters, presumably with local connections. They'll use different camera angles, following that specific team's players. They'll offer different halftime shows, analyzing that team's performance. All operating under the assumption that fans want to view their team's games through a very personalized lens.
"This is really about giving fans alternate viewing options," Daniels said. "Ratings are always a consideration, but we're not worried about them. We're looking for innovative, forward-thinking ways to present these games."
The overall ratings shouldn't be affected. TNT and TruTV are in nearly as many homes as TBS, and on the other end, it's hard to see anyone tuning in just for the personalized broadcast that wouldn't have watched the game anyway. And since the same commercials will air on all channels simultaneously, there's no extra money in selling market-specific ads.
This is probably the future of big, national sports telecasts. Viewers don't like national guys parachuting in—they don't have the familiarity with the players, and their general impartiality is a shock change from the local broadcasters' tendencies toward homerism. (Any time a fan accuses a national sportscaster of being biased against a team, it's usually because the sportscaster isn't giving the team the same tongue-bath local announcers do.)
It's a universal impulse to want to hear a game broken down in terms of what everything means to your team. Anyone's who's ever muted a TV and put on the local radio broadcast can identify. Turner's just cutting out the middle man. Of course, not many events are big enough to justify the costs of putting on three separate telecasts—the Final Four, which is sure to have large, rabid fan bases, is one of the few that qualify.
[SBJ]