Pretty rough year for last decade's biggest NYC bands, right? The Rapture quietly broke up. The Walkmen followed up their 2013 "extreme hiatus" announcement with strong but unsung solo albums from Hamilton Leithauser and Peter Matthew Bauer. Interpol released an album that sounds like them and bears the pseudo-self-titled clever-anagram title El Pintor; if that's the standard now, hopefully they'll name their next one Liteporn. (Oh, also, they've spent most of the week trapped on a snowed-in tour bus in Buffalo.) Karen O released a hushed solo album of leftover material, a tepid follow-up to last year's Mosquito, the first-ever tepidly received Yeah Yeah Yeahs album. And then, of course, there's Strokes frontman, scene golden boy, and avowed brunch-hater Julian Casablancas, who formed a new backing band (a bunch of Guitar-Center-employee-looking dudes named the Voidz) just to give the world Tyranny, a huge, corroding Voltron of random ideas and structures and genres, all rusted and grinding together in a purposefully ugly and obnoxious way. If you've listened to that one even twice through, you're a braver—or more patient, or more masochistic—soul than I.
Finally (and happily, for once), we have TV on the Radio, who this week released their fifth album, Seeds. The band was always an odd fit within NYC's rock resurgence—for one thing, they lived in Brooklyn, which at least superficially separated them from all the young rockers idolizing the Lower East Side and the Velvet Underground and CBGB and all that. More importantly, they've never really stopped surging: Compared to Interpol or the Strokes (who both peaked, at least critically, with their debut albums), TVOTR arguably crested with their third, 2008's Dear Science giving them a foothold in the more Brooklyn-centric indie scene (Grizzly Bear, Dirty Projectors, etc.) that defined the rest of the decade.
But what really sets this band apart is that they've always looked forward, not backward. Most of their counterparts revived the romantic notion of the Major Rock Band, making one last bid for that idea amid the electronica and nü-metal of the late '90s and early '00s before being completely vaporized by the Way We Live Now, when you can access everything, anywhere, all the time, and the idea of a cohesive and localized rock movement as a significant mainstream force seems quaint and antiquated. But TVOTR always sounded like the future. Long before Casablancas pursued an unholy combination of sludgy metal guitars and catchy synthesizers and muddy industrial elements, these guys were far more deftly blending stuff from all over the place, and crafting their own distinct post-rock (and post-apocalyptic) ethos. The stuff off their first two proper albums, 2004's Desperate Youth, Blood Thirsty Babes and 2006's Return to Cookie Mountain, were alien-sounding relative to the stock gritty aesthetic everyone else was chasing across the East River; it made them seem like prophets or digital mystics fully bug-eyed and freaked out about the future visions they were receiving.
So where does that leave us with Seeds? Well, it's the year's one NYC-alumni offering that feels like it's propelling its creators (and us) further in any sense. It doesn't replicate the quantum between-album leaps of their early stuff, but it's still a new TVOTR record, and that means it's still thoroughly idiosyncratic, still unsurprisingly surprising. Its predecessor, 2011's underrated Nine Types of Light, suggested a sort of mellowing-out, favoring broody/dreamy synth jams over the politicized robo-funk that came before. But it still made sense as part of their larger catalog, and so does this one: The shifts and modulations have just gotten subtler. They're no longer completely remaking themselves every two years or so, but that doesn't mean they've stopped uncovering new elements of their personality.
For one thing, this might be the band's poppiest album, tonally and sonically, from the '60s jangle at the outset of "Could You" to the towering, euphoric centerpiece "Ride," in which verse and chorus alike construct a stacked barrage of refrains burrowing steadily and deeply into your mind. (I saw them debut it live back in May, and the chorus got stuck in my head immediately.) Not that these guys went and made an EDM record or anything: What "pop" mostly means for them is that Kyp Malone and Tunde Adebimpe give their best vocal performances to date, with clear and infectious melodies pushed to the front of the mix.
G/O Media may get a commission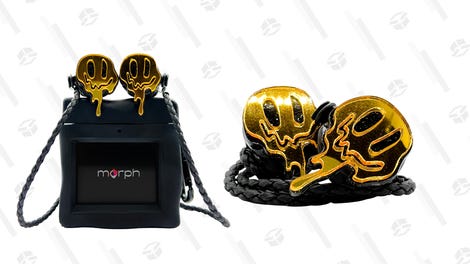 morph audio
Morph Earphones
There is an overall brightness to the thing as well, which is a shock. There is some bleak, bleak stuff in TVOTR's catalog, and a moody darkness lingers, but after the 2011 death of bassist Gerard Smith, it was unclear whether the band would continue at all, and highly unlikely they'd return with something so peaceful and contented. In lesser hands, "Ride" could easily tilt into schmaltz, but the orchestration and Adebimpe's melody sell this thing. "Think about the future," he sings over and over, like he's really trying to convince himself; the chorus of "Trouble" is "Everything's gonna be OK / I keep telling myself." Seeds isn't a happy record, but it sounds like the band is processing its pathos in a new way: This is a far cry from the group who once opened an album with "I was a lover / Before this war" in a song that felt like a nice winter walk through a nuclear wasteland, and regularly cooked up tracks so manic and unnerving they might, say, soundtrack an iconic Breaking Bad scene.
So maybe they are slowing down somewhat, just like their former neighbors. You can find traces of where they've been before here, like the droning siren of a guitar that surfaces near the end of Seeds' stunning closing/title track and calls back to the band's earliest, most post-rock-indebted work. Or the way the vocal interplay of opener "Quartz" recalls that early material as well, back when they had a sideline in bizarre and haunting doo-wop experiments. But compared to any of the other NYC rock-resurgence heavyweights, these guys still seem miles ahead, same as in 2004. This is actually a damn good record, for one thing, exciting and invigorating, even if they're finding newer, quieter ways to be exciting and invigorating. "Rain comes down, like it always does / This time I've got seeds on ground," goes the title track's gorgeous refrain; as always, in the face of adversity, TV on the Radio have found a way forward.
---
Ryan Leas is a freelance contributor to Stereogum. He has also written for Salon, the Village Voice, and GQ.com. He lives in New York and is on Twitter.
The Concourse is Deadspin's home for culture/food/whatever coverage. Follow us on Twitter, too.