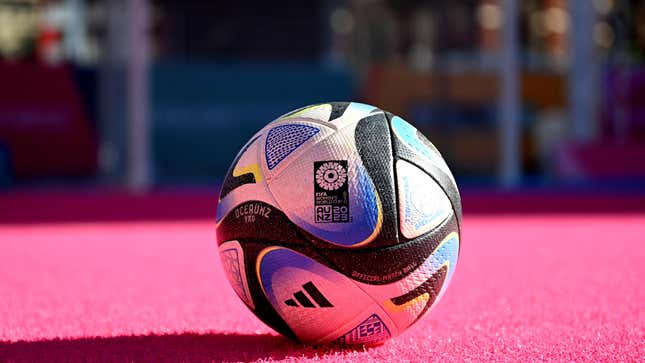 In the moments after England won the Women's European Championships last summer, BBC presenter Gabby Logan issued an inspiring call for the accomplishment to be a mere stepping stone in the growth of the women's game. Would have been nice if her employers were listening ahead of the 2023 Women's World Cup.

Black Quarterbacks = Big NFL Ratings | The SEO Show
Yesterday, Barcelona overcame a 2-0 halftime deficit against Wolfsburg to claim their second Champions League, a game that featured stars from both Spain and Germany and several other countries whose talents will be on display come the World Cup in a month's time. At the moment, no one in Spain or Germany will be able to watch them on TV.
Still no TV deal for much of Europe
Such is the state of TV rights for next month's World Cup, as the tournament has still yet to strike a deal with anyone in the big five countries of Europe. Sports ministers from across the continent have had to get together to try and nudge various TV companies to strike a deal for the tournament. Rumors have it that the BBC and ITV in the UK are nearing an agreement, but Germany, Italy, Spain, and France still have some ways to go. There is also not an agreement in Japan, who won the tournament just 12 years ago and were finalists in the follow-up in 2015.
Where the fault lies is how much stock you put in FIFA's "non-profit" status. The sport's governing body will tell anyone that will listen that the offers from broadcasters in those countries have been best described as "derisory" or "insulting." And if the numbers are true, you can certainly see why they'd say that. According to that Athletic article linked above, broadcasters have offered anywhere from one to five percent of what they paid for the men's tournament this past winter. And it's not as if there isn't an audience in these countries. Eighteen million in Germany watched the Women's Euro final that their country was in last August.
But of course, low offers for the rights only hurt FIFA. So what do you think FIFA is more worried about, knowing what you know about FIFA: That the offers for the TV rights are low and don't value the women's game, or that FIFA would lose money or maybe simply not just make as much money on the tournament as they would with bigger TV deals? If FIFA were truly a non-profit, wouldn't it simply be about exposure of the tournament and getting it in front of as many pairs of eyeballs as possible, whatever the financial outcome?
FIFA has some explaining to do
It would be ideal if these TV companies were to make much bigger offers, but they have teams of marketing people to figure out just how much the tournament is worth to them. And at the end of the day, they're businesses. Certainly the faraway locale and odd start-times might have something to do with it, and that's probably what the broadcasters in those countries would tell you. Still, they're not that weird, not as weird as they are for fans in the Colonies. England's first game is at 10:30am BST. Spain's at 9:30am (though Spain has the complication of not knowing what kind of team they'll be sending Down Under). Germany's is also at 10:30. The US's third group game is at 3am Eastern. Now that's a weird time! Fox didn't seem to mind. The Final will kick off at 11am BST. Not ideal, but also not horrific.
Again, ideally, both FIFA and the broadcasters would televise the tournament the world round simply because it's the right thing to do and would be a boon to future tournaments as interest in the women's game continues to grow. But only one side of these negotiations still uses the figleaf of being an organization that is purely meant to govern and grow soccer, and it isn't the BBC or ZDF. The fear of course is that FIFA not raking in as much cash as it would like for the TV rights would see them pull back on even the modest bumps in prize money that they've made for the WWC. But again, no one's going to shed a tear for FIFA having to dip into the coiffeurs to reward the players what they deserve. It is supposed to be the idea of FIFA, really.
If it's that important to FIFA to grow the women's game, which it's happy to say while not exactly matching deeds with words, then it should do so. TV companies aren't sympathetic figures either, but it's not their job to be.
Follow Sam on Twitter @Felsgate.