It should've been a runaway victory for Lexi Thompson, and it would've been if not for one tattletale viewer and some truly unfair rules. Thompson had a significant lead in the final round of the ANA Inspiration, the first LPGA major of the year, when a viewer wrote in to alert officials to a violation the previous day.
The 22-year-old Thompson was on the ninth hole Sunday when the email arrived via the LPGA website's fan feedback link. The fan reported that Thompson had erred when she marked her ball on the 17th hole in Saturday's third round, misplacing it by an inch at most:
After conferring, a rules official confronted Thompson as she was walking off the 12th green Sunday, and informed her of the news. She would be penalized four strokes—two for incorrect ball placement, and two for signing an incorrect scorecard. (Though her scorecard was correct at the time she signed it Saturday evening; what exactly was she supposed to do?)
"Is this a joke?" Thompson asked the rules official. Assured that it wasn't, Thompson said, "This is ridiculous."
G/O Media may get a commission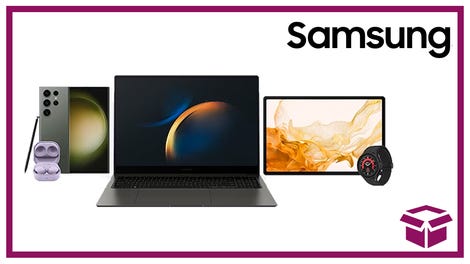 24 hour deals
Discover Samsung - Daily Deal
Thompson teed off from 13 in tears; what had been a two-stroke tournament lead was now a two-stroke deficit. Thompson fought back and birdied 18 to force a playoff, which she lost to So Yeon Ryu. The ruling hadn't only cost her a second major win—the difference between first and second place was more than $150,000.
"It's unfortunate what happened," Thompson said. "I did not mean that at all. I didn't realize I did that. I felt strong through the finish, and it was great to see the fans behind me."
As word of the penalty spread, fans at the course chanted Thompson's name.
"I just regrouped," Thompson said. "My caddie helped me out tremendously. He just said, 'Stay with it. You can still win.' But it's all to the fans. They helped me get through the rest of the round, which helped a lot."
Thompson, despite very clearly wanting to get the hell out of there, stayed for an hour after her round to sign autographs.
The golf community was up in arms, and while I'm definitely not part of that community, allow me to give my opinion: This is obviously bullshit. If your sport is reliant on viewers at home to police rules violations, maybe that's a problem with the sport! Rely on the players to police themselves and each other, and if that doesn't work rely on officials on the course, and if that doesn't work then have a rules official watching TV or something. And if the violation is so minor that none of those people caught it—say, someone replaces a ball an inch away on an already-gimme putt—then maybe the violation is too minor to be worth penalizing.
The rules are necessarily applied unfairly, because the vast majority of golfers' shots aren't even shown on TV. It's only the stars and the leaders who come in for the pro bono scrutiny of viewers—Ryu, for example, didn't even realize she was in contention until she had nearly finished her round yesterday. If she had committed the same infraction as Thompson, no one would know because her rounds weren't so closely followed by the TV cameras.
That scrutiny also only counts for the length of the tournament. If, by chance, you did see Ryu commit a violation yesterday, it wouldn't matter if you phoned it in right now. Once a tournament's over, it's over.
And yet, the LPGA seems more concerned with urging viewers to promptly snitch, rather than to take away their snitching powers altogether. Dan Maselli, manager of rules and competition for the LPGA, encouraged fans to say something immediately if they see something.
"One of the unfortunate things about live professional golf and live television is people do see things and I wish they would speak up more quickly because then the additional two-point penalty, she wouldn't have occurred that if we could have gotten this (taken care of) during her round (Saturday)," Maselli said.
It will not console Thompson, but in a couple more years this scenario may not be in play. The 2019 Rules of Golf, the sport's bible co-authored by the USGA and the R&A, is expected to be "friendlier" to players. Among the proposed changes would be to reduce or remove certain penalties for inadvertent actions, or violations that don't provide an advantage. It would also limit the use of video review to retroactively scrutinize questionable drops and placements.
Those changes will be welcome. In the meanwhile, to the viewer who wrote in to snitch on Thompson: God, you suck.