This is from Wednesday's game, a David Ortiz home run that was retrieved by a girl in the first row. When the girl made it clear she had no intentions of tossing the ball back onto the field, the woman in red let the girl know to her face what she thought of that decision.
Update: We heard from a fan who was nearby that it wasn't a child who corralled the ball:
"I got a hand to Papi's moonshot (unfortunately) and my dad actually ended up with the ball first. He asked if I wanted it and I said something along the lines of "F*** that f***in' ball. Throw it the f*** back for all I care." Keep in mind the pain just set in from the thumb destruction. So my dad flipped it the woman next to us who had a glove and was a Sox fan (like we need any more reminders that Ortiz was a Twin once).

So anyway, the lady that flipped the bird swore a lot during the game but I don't think she was being malicious with the finger and it certainly wasn't to a child.
You can actually see it better in the video, right around the 23-second mark. Looks like a nice little "fuck you" to go along with the middle finger. I wish the broadcast didn't cut away, because that fellow in the red coat walking over appears to be an usher.
G/O Media may get a commission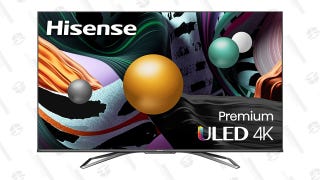 Save $350
Hisense ULED 65" Android 4K HDR Smart TV