For a few hours yesterday, word raced around Twitter—and, ever-so-briefly, onto the blogs—that the Vikings would be opening up their stadium as a homeless shelter on a night of subzero temperatures in the Twin Cities. It wasn't true, but everyone really, really wanted it to be. And in the end, isn't that the key to virality?

It started with a Minneapolis man named Jake Nyberg (who MPR News describes as a "known Twitter commodity," which is a pretty sick burn). Nyberg has since deleted his entire Twitter account, which gives you a hint about how this played out, but here's what he tweeted:
He tweeted about this a lot! But it might not have gone anywhere if not for his friend, David Dellanave, who best I can figure is some sort of thinkfluencer (which should also be read as a sick burn), but has that little verified check mark, and therefore cannot tweet lies without going to Twitter Jail, so of course it must have been legit.
G/O Media may get a commission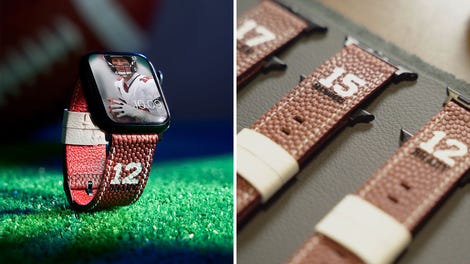 Official NFL PRODUCTS
Official NFL Apple Watch Bands
Local reporters and national sports reporters took this and ran with it. CBS Sports published a blogpost on it, as did Yahoo Sports. (Those posts were outright deleted, with no acknowledgment, when the hoax came to light. But cached versions can be found here and here. If there is a lesson here—and I'm not sure that there is, because lessons are for children—it's that there's value in waiting for a second source, especially when the first source is a gym owner who lives in Philadelphia.)
You're definitely a problem here, Jake.
After reporters contacted the Vikings and the stadium authority and spread the word that this was a hoax, Nyberg and Dellanave doubled down, declaring that their hoax was actually pointed satire, that they intended to criticize the NFL and the Vikings for not opening taxpayer-funded stadiums to the homeless at night. There's half a point in there, but the logistics of homeless programs are such that it's not feasible and probably not desirable to make shelters of structures that aren't specifically staffed and equipped for it. (And, as the Star Tribune points out, though the stadium is publicly owned, it's privately operated.)
It's awful that there's not enough funding to keep city shelters open longer, and that cold-weather outreach is conducted largely by private groups, when lawmakers were able to come up with $500 million in taxpayer money to give to the Vikings. But fooling people and humiliating them for sharing fake news is not the way to get them on your side in any discussion.
Dellanave has since deleted his original tweet and apologized, but I'm confident that nobody has learned anything.