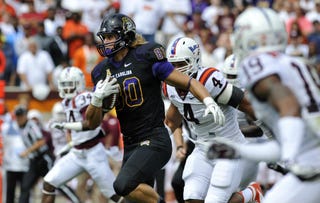 East Carolina went into Blacksburg and took down #17 Virginia Tech in a four-hour game, while #21 Louisville was dumped by Virginia, though maybe that second one was just an example of the wrong ACC team being ranked.
Neither was what you'd call a huge upset, as both teams with the numbers next to their name were favored by less than 10. Given how college football works, though, in team and conference perception, those little numbers matter and the ACC is now going to have fewer of them.
Elsewhere, Maryland's last-second FG loss to West Virginia also contributed to this being a bad day for teams with patriotic-helmets. Georgia Tech barely held off a majestic comeback effort from Georgia Southern, and Vanderbilt somehow escaped the clutches of UMass.
If you're hungry for a slightly higher class of football - which is not unreasonable, because all of that might have been fun, but it wasn't all that pretty - South Carolina vs. Georgia has yet to start, due to inclement weather.
[Photo Credit: Getty Images]