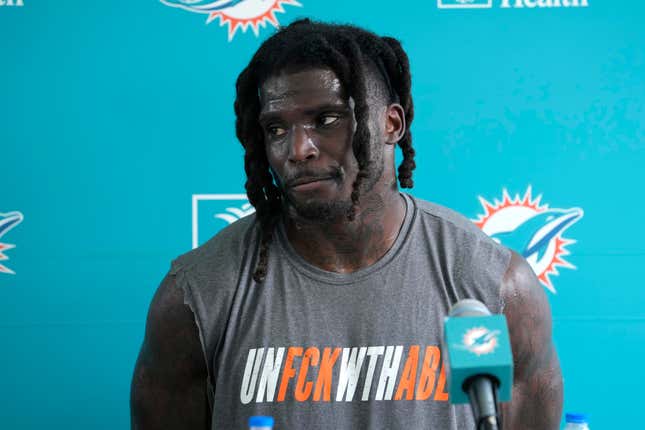 Updated July 27: Tyreek Hill won't be charged, according to TMZ Sports.

Per the gossip outlet:
"The individual who would have been termed a victim if there had been a filed case, came into the Miami-Dade State Attorney's Office, met with Assistant State Attorney Robert Fiallo and signed a notarized Non-Prosecution Form indicating that he did not wish to press criminal charges," a spokesperson for the Miami-Dade State Attorney's Office said in a statement. "On the form, he also indicated that no threats, promises or coercion played a part in his decision."
Mahomes or Hurts? Who will win NFL MVP? | Agree to Disagree
Updated Aug. 31: The NFL won't punish Hill, either.
---
The Miami Dolphins signing Tyreek Hill to the biggest wide receiver contract in the NFL was a risk.

Yes, he had three consecutive scandal-free seasons before he became a Dolphin, but there are some jarring allegations in his past. A recent allegation doesn't rise to the severity of the other two, but it still involves Hill being accused of not keeping his hands to himself.

Local 10 News in Miami said it received a tip about an altercation allegedly involving Hill and an employee at Haulover Marina. The incident allegedly ended with the wide receiver striking the employee. Miami-Dade police did confirm to Local 10 that Hill is currently under investigation. Hill nor his representation have issued a response.

Update: The employee will be pressing charges against Hill, according to reports.
"During the argument the victim said he was slapped on the back of his neck by a man, believed to be Hill," NBC 6 South Florida is reporting.
Updated June 29: Tyreek Hill offered the employee $200 and an apology after smacking him, according to a police report.
From the South Florida Sun Sentinel:
"The man who was at the dock with Hill told the employee Hill wanted to apologize. When he came out of the office, he heard Hill telling his 'associate' to give him $200, the report said. The employee didn't take the money, and Hill left shortly after."
Not his first brush with the law
The last time that Hill was under a police investigation was in 2019 while he was still with the Kansas City Chiefs. In March of that year, two police reports were filed against him for child abuse and neglect by his ex-fiancée Crystal Espinal. One complaint accused him of breaking their then 3-year-old son's arm. The case was dismissed. Hill was adamant in public and on a call that his ex-fiancée recorded that he did not injure his son. However, Johnson County DA Stephen Howe did say publicly that he believed that a crime took place. Also, both Hill and Espinal temporarily lost custody of the boy.
There is more clarity with the mishap that got Hill kicked out of Oklahoma State after one season. He allegedly punched and choked Espinal while she was pregnant with their son. Hill pleaded guilty to domestic violence charges and received probation. In 2018 the incident was expunged from his record.

Risk vs. reward
Athletic talent has never been a question with Hill. He is arguably the most dynamic player in the NFL. The game before he got arrested at Oklahoma State he returned a kickoff 92 yards for a touchdown in the fourth quarter against Oklahoma. He is a physically imposing presence on the field at under 6 feet tall, but his career almost ended before it got started.

Hill had to tough out the junior college route to get to Power 5 football. He had immediate success, but before Christmas 2014 he was in handcuffs and would later finish his collegiate career at a Division II program. That case and that plea agreement at Oklahoma State dropped him to a fifth-round pick in the 2016 NFL Draft. Hill was then selected by a team, and coach, with a history of employing players with domestic abuse allegations.

As Hill enters his eighth NFL season, as a player he has largely been a success story. His career was almost derailed before it ever got rolling. At 29 years old he has gone from being kicked off of a college campus to a nine-figure contract.

But there is always the chance with Hill that trouble can find him. That plethora of athletic talent comes with risk. The Dolphins took on that risk, with hopes that the result is championship contention. It has been 15 months since they traded for him. Now they have a first-hand experience of the downside of Tyreek Hill on a roster.