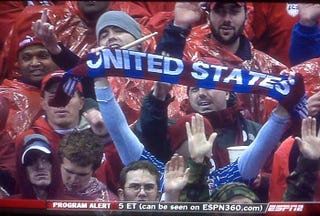 Got an image you'd like to see in here first thing in the morning? Send it to tips@deadspin.com.
&@#$ yeah! USA! USA! USA!
Soccer; a great way to heal differences and bring nations together. The U.S. 2-0 win over Mexico in a World Cup qualifier on Wednesday was just such a tonic, as Mexico assistant coach Paco Ramirez demonstrated on U.S. player Frankie Hejduk in the tunnel after the game.
The Hejduk Incident [Washington Post]