If you thought watching a football program die was hard, wait until we witness one try to raise itself from the grave.
On Monday, the University of Alabama at Birmingham decided to play take-backs, as president Ray Watts announced that the school would be reviving the six-month-dead football, rifle and bowling programs, much to the joy of every red-blooded, The-Man-hating American. We could spend plenty of time talking about how Watts and the UA System's board of trustees screwed the pooch on this whole situation, but unstead of focusing on how we got here, let's look at the daunting task now facing the University and the football program, which hopes to have a team competing again in 2016.

Finding players to play
First things first: UAB doesn't have a roster.
According to this helpful list from CBS Sports, 56 players had made the decision to transfer following the 2014 season. When I reached out to Norm Reilly, UAB's football sports information director, he said that list wasn't even complete, and that the numbers have been changing for the past six months.
"Number of players remaining with the program is to be determined," he wrote. "Not sure where you saw the 56 number for players having transferred. I have a few more than that, though the list has remained fluid since the announcement in December."
Pair this mass exodus with the 19 seniors that just graduated and the seven non-transferring juniors that will graduate in 2016 and it would seem UAB is in a bit of a pickle, as—mathematically speaking—it is impossible for them to comply with NCAA guidelines and field a team by 2016.
G/O Media may get a commission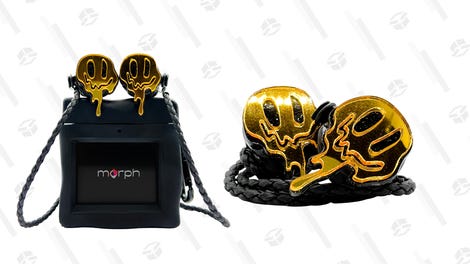 morph audio
Morph Earphones
By spring 2016, the Blazers will have lost at least 82 players to graduation or transfer. That leaves 23 remaining student-athletes to suit up for the Blazers come 2016, and that's only if those 23 are willing to chill out and just hit the gym for more than a year.
One of the few positive aspects of the situation is that should these players decide to stick around in Birmingham, Reilly says the school will honor all existing scholarships.

But the issue of returning players is just a small part of the uphill climb that the Blazers will face in the coming year, the first of which will be bringing in fresh talent. The NCAA's bylaws state that no program can sign more than 25 new scholarship players each year. When I asked UAB about whether or not the NCAA will allow them to bend that rule to dress a full team, Reilly wrote, "that's not a question that can be answered at this time."
If the NCAA doesn't bend, then the squad will be forced to play with a very thin roster. (If you were wondering, after perusing the NCAA rulebook and asking a couple SIDs including Reilly, as well as the NCAA itself, it would appear that there are no roster minimum requirements.
"Not certain, but I don't think there is a minimum," Reilly wrote. "But I think it's important to realize that the number would need to be such that it doesn't put the student-athletes at risk."
Even if UAB is allowed to oversign, they're going to be recruiting players in a state shared with Auburn, Alabama, and Troy. They weren't getting the cream of the crop before and you better believe that six months after their program was shut down, prospects are not going to be lining up to sign just for the novelty of playing on a reborn team.
Should the NCAA make UAB play by the signing rules, it would take at least three years for the Blazers to haul in enough players to even have a reasonable chance at competing in the FBS. And even then, they'd be counting on bringing in two classes of players who are just going to twiddle their thumbs for a year or two.
Finding a place to play
On top of having no players, UAB needs a new stadium
Legion Field—the stomping grounds of the Blazers up through 2014 and the former host of the Iron Bowl—is godawful. It would seem that the stadium, built in 1926, has devolved into a sad excuse for a venue and was one of the major bones of contention when Watts brought the hammer down in December. At the team meeting with Watts, players had plenty to say about intractable field conditions.
Since Legion Field is off the table in terms of a long-term solution, the university would ideally like to construct one on campus. But it can not or will not foot the bill. Private donors have pledged a reported $7.5 million for an on-campus stadium, but that's not nearly enough. Another option is for the Blazers is to pair with local investors and the city government and to build a stadium off-campus, but Birmingham's mayor declared this week that "we do not have the resources to do that."
On the upside, though, the program determined it was able to raise enough money—Watts said it was in "the 13-million dollar range"—to build the team a field house and artificial turf field. Still, it looks like Legion Field will be making at least a temporary comeback of its own.
Securing a conference
Conference USA rules stipulate that a university must maintain a football team in order to be a part of the conference. When UAB decided to chop theirs, it raised some questions, but Reilly doesn't believe it will be a problem.

"Technically, UAB never left C-USA," Reilly wrote.
Reilly admits it's still "to be determined" whether UAB will be able to field a team in 2016, but Conference USA appears content to wait and won't penalize the Blazers:
"We are very pleased with the decision to bring back the football program at UAB. As a conference we are committed to football, and we welcome the good news that the UAB football program has been given another chance. From all indications, this program will now be able to count on a very strong foundation of community support upon which it will begin the re-building that will position it well for success into the future. Although the lengthy evaluation process was challenging, this final outcome makes it worth the wait. We look forward to working with our colleagues in Birmingham as they plan this exciting new chapter in UAB football."
Getting back on the horse
UAB won six games last year for the first time in 10 years under first-year head coach Bill Clark, who was named Conference-USA coach of the year as a result. And had the program not received the axe in early December, then he would have led the squad to its second-ever bowl appearance.

All the work that Clark put in to bring this program back to respectability has more or less been flushed down the shitter. He currently has no momentum, no players, no recruiting leverage, nothing but warm feelings.
This is going to require a rebuild unlike anything since SMU post-death penalty. You can celebrate UAB saving its team, and you should! But the next few years in Birmingham are going to require hard and painful work. The Trustees didn't kill Blazers football, but they crippled it badly.
Photo: AP