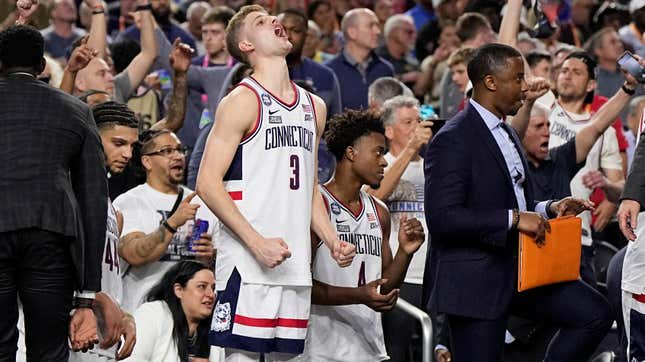 After everything this NCAA men's tournament has had to offer. After all the one seeds fell. After an Ivy League school made the Sweet 16. After a Conference USA team made the Final Four. After 62 other schools lost, we get a blueblood in the title game. The UConn Huskies aren't just advancing, they're leaving foes twisted, contorted, and smushed on the bottom of their sneakers.
I know the game of the day was San Diego State rallying back to beat FAU on a last-second jumper, but the team of this tournament has been UConn. No opponent has been able to stay within single digits of the Huskies. Miami tried, but every time they got the deficit under 10, UConn would go on a run led by one of their bigs, usually Adama Sonogo, but freshman center Donovan Clingan also has been devastatingly effective.
The wings and guards are all equal parts interchangeable and unshakeable. Jordan Hawkins has been a star, but I trust Andre Jackson, Joey Calcaterra, and Alex Karaban, too. I'd be remiss not to mention Tristen Newton who brought up the ball with poise and made the smart passes despite being hounded full-court by athletic Hurricane guards most of the second half.
That's what stands out the most about UConn. They're talented, but the level of execution has been off the charts. By the time the title game rolls around, we at least have a loose blueprint of how each team could win or lose. Be it foul trouble, an offense that bogs down, or a bad matchup, everyone should have a kryptonite.
The rest of the field has flatlined no less than 15 times and required multiple charges from a defibrillator to be resuscitated. I mean, SDSU has escaped more executions than Tuco, and spent most of the Elite 8 and Final Four waiting for Blondie to shoot the rope.
The Huskies' lone vulnerability seems to be Big East squads — Dan Hurley's guys haven't lost a non-conference game all season — and seeing as they're the only school from the conference left, things appear pretty bleak for the Aztecs. In this backward, bizarro era of college basketball, no one is supposed to stroll through the tourney with a standing heart rate of 60.
Thank god Jim Nantz got one great game during his last weekend of calling the Final Four because the Mortal Kombat announcer is about to steal his sign-off after Monday's game with a single "Flawless Victory" as Sonogo removes Brian Dutcher's head from his body with the spine still attached. I was promised anarchy this March, and UConn is sitting there — house burning down around them — saying "This is fine," and not being ironic about it.
I hope my jinxing of the Huskies has been sufficient because I'd love to be wrong. I'm sick of pundits predicting the end of days and then not getting death, plagues, the Earth in a puddle, or a new national champion at the end of March Madness.
So good luck to SDSU. I know teams need it in March, but I didn't think it'd be in the context of David vs. a T-1000.
The best of SDSU's buzzer-beater
You didn't really think I'd omit the best play from Saturday, did you? Here are a bunch of different views, calls, and reactions to Lamont Butler's buzzer-beater and the party it kicked off in Southern California.
Here's how it sounded.
Here's how close it was to almost not counting.
Here's how the SDSU fans at the game reacted.
Here's how SDSU fans at a half-empty bar reacted.
Here's how Petco Park, home to the San Diego Padres, reacted.
And, finally, here's how the streets of San Diego reacted.