I'm not an MMA guy. I haven't ordered anything on pay-per-view since Wrestlemania VI. But even I know that tonight is something special.
The buzz surrounding tonight's card is new to me. I don't go looking for MMA news, but I'll note it when it pops up on the mainstream sports media sites, or even in non-news outlets (like Time's 1000 word-piece this week). But I've known about this event for a while now, even know a lot of the names involved.
A little perspective: insiders are pegging the PPV buy rate tonight at possibly more than a million. Those would be huge numbers: HBO's heavily hyped Pacquiao/Hatton bout in May took in around 850,000. The all time record is held by De La Hoya/Mayweather in 2007, with 2.4 million buys. Will you be buying it, or at least streaming the torrent? Will you be talking about it at work on Monday?
And can UFC really lay claim to being MMA's premier league without having MMA's premier fighter? Fedor Emelianenko is the fighting world's biggest name, and most dominant athlete. He's 30-1 with five wins over former UFC champions. Can the winner of tonight's Brock Lesnar-Frank Mir bout really be the best in the world without ever facing off against Fedor?
Says Dana White:
Let me put it to you this way. I've done fight contracts with all the best fighters in the world," he said, working his way to the knockout blow. "With big huge superstars - Brock Lesnar, Chuck Liddell, the list goes on and on. Who the fuck is Fedor? Are you serious? The guys who fight for me have a chance to make a lot more money fighting with me than with anybody else. If he signed with us, he'd find his place in history, find out if he really is the best heavyweight in the world. It's all semantics. It's all bullshit."
G/O Media may get a commission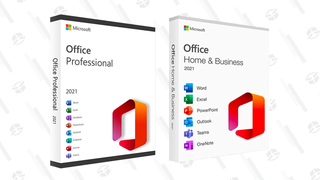 89% off
Microsoft Office Professional 2021 Lifetime License
The future of Fedor, and the quality of tonight's fights could decide an awful lot about the path of MMA in this country. We'll be watching.
*****
Thank you for your continued support of Deadspin. Tomorrow, Sun- - with Suss- -. Tonight, fire it up.