NEWARK — Newark is as close as the UFC can get to New York City, but it's still too far. In the week leading up to the light heavyweight championship bout between Jon "Bones" Jones and Mauricio "Shogun" Rua on Saturday night, the UFC welcomed fans to Radio City Music Hall, paraded a painted Chuck Liddell down Fifth Avenue on St. Patrick's Day and visited Albany to pressure lawmakers to legalize mixed martial arts in New York. And why not? If Saturday's card in New Jersey was any indication, MMA – at least the UFC's version of it – is hardly the savage chaos that yet stirs fear in retrograde moralists. Rather, it's an orchestrated revenue spectacle, one that leans toward the professional wrestling model, with its manufactured heels and heroes. Moralists can appreciate such kabuki. The only people who should be uneasy are MMA fans and fighters.
It has become impossible to watch the UFC – especially after its recent purchase of its only viable competitor in Strikeforce — without wondering how every decision and every fight in the organization advances a business agenda. We'd like to believe that MMA is about determining, ultimately, who'd kick whose ass at any given weight. But that's what we're supposed to believe. The UFC now owns everything worth owning in MMA, which means athletes must now be as proficient in boosting pay-per-views as they are in defending takedowns. The UFC denies having too much power in a sport without a union. When a business starts loudly protesting that it's not a monopoly, however, you can bet it's not too far removed from one.
So where does the marketing of MMA end and the sport begin? I went looking for answers in Newark on Saturday night. A world away, warplanes were bombing Libya. In Newark, a horde of fans – think NASCAR meets Juggalo meets Jersey Shore – were storming the Prudential Center. For obvious reasons, the Newark police had stationed a mobile command center outside. It looked like an armor-plated Winnebago.
Already one of the fighters had encountered some criminal mischief. A few hours earlier, Jon Jones and two of his coaches were driving through a rough neighborhood in nearby Paterson looking for a waterfall where Jones could meditate. Instead, they spotted a man who'd stolen a purse or a GPS out of a car. The group took off in pursuit. When they caught the thief, one of Jones's coaches applied an armbar. Jones put the man in a figure four leglock. They restrained him until the Paterson police arrived to make the arrest. At least that's the story that turned Jones into an instant superhero. (When I called the Paterson Police Department yesterday, nobody even knew about the incident, although that might just indicate that nobody at the Paterson Police Department knows what's going on in Paterson.) Good thing MMA photographer Tracy Lee just happened to be on the scene and ready to tip off Yahoo moments before UFC 128.
Once inside the Prudential Center, a different reality took hold. I discovered that my seat wasn't in press row but instead in "Section 2F," a remote leper colony of media undesirables. I was one of three people in 2F doing any work and the only one taking play-by-play notes. A subtle move. The UFC hasn't always appreciated my coverage. UFC flacks have at times demanded that I write more about the action in the cage. But nobody in 2F was actually covering the action in the cage. Because you can't cover the action from there. You're better off watching it on the JumboTron, which is what I ended up doing until I found a better seat in the crowd.
* * *
In the opening fight of the night, featherweight Erik Koch (11-1) from Milwaukee made his debut against another UFC novice in Raphael Assuncao (15-3), who was fighting out of Georgia. Koch had a face that reminded one of a skinny Steven Seagal and a right hand that recalled Carlos Monzon, which is the more desirable comparison for a fighter. In the first round, he backed Assuncao up with short punches until the Brazilian couldn't help but step forward into a counter right hook that landed on the point of Assuncao's chin and put him down for a very long time, his knees crimped skyward, as the EMTs wheeled out a stretcher just in case. Koch celebrated joyfully and without gloating in the middle of the cage because that's what you do when you score a one-punch knockout in your first UFC bout.
Constantinos Philippou (7-1) wouldn't get so lucky. Philippou trains at Matt Serra's gym in Long Island. He has a tattoo over his heart of boxing gloves and the word "Polis," which is probably not an Aristotle reference. His opponent at the 195-lb. catchweight was Nick Catone (8-2) from Brick, N.J. Catone, the "New Jersey Red Devil," was the local favorite. Neither fighter looked like the type you'd care to encounter in a dim corner and a foul mood, but like many men with loud appearances, they were quieter than advertised. Philippou threw slow, looping punches and made it easy for Catone to take him to the floor, where Catone ground and pounded his way to a three-round unanimous decision that would would have elicited boos if the fight were anywhere outside of New Jersey.
Ian Loveland (14-7) from Portland looked more like a 16-year-old than a hardened fighter. Loveland's nickname was the "The Barn Owl," but he had a tattoo on his back of a giant fish jumping out of the water. Maybe he was confused. He certainly fought like it against Joseph Benavidez (13-2) from Sacramento. Loveland was the bigger man, all angles and edges and sharp knees, but he hunched over and dropped his guard in the way that fighters confident in their defensive reflexes do. That confidence was misplaced. Benavidez, a top bantamweight and WEC veteran, didn't fall for any of Loveland's feints and began throwing hard leg kicks, turning over his hip and powering into the movement. He was craftier than Loveland, too, switching stances and surprising him with sneaky trips. After two rounds of this punishment, Loveland had aged noticeably. Normally, you'd call that seasoning. Against a well-rounded mauler like Benavidez, however, it amounts to a unanimous decision loss.
Gleison Tibau (21-7) is a Brazilian lightweight who rarely impresses. Tibau is a cautious, hesitant, technical fighter whose terrifying physique belies a man who fights gentle. Kurt "Batman" Pellegrino (21-5) is his mirror opposite, a messy man who will swarm you with flailing arm punches, overwhelming with quantity, not quality. And Pellegrino did just that in the first round, pushing Tibau up against the fence where he worked for takedowns. Pellegrino can't box. But in the second, he kept throwing those formless punches until one that resembled a right hook got through and staggered Tibau, who decided at this point that hesitation is not the best strategy in an MMA fight. In the third, Tibau pressed the action and scored takedowns, after which he expectedly smothered Pellegrino and, less expectedly, won a split decision.
Before Mike Pyle (20-7-1) entered the cage to meet Ricardo Almeida (13-4) in their welterweight bout, Taboo from Black Eyed Peas arose from the lower level of the Prudential Center like a demon priest. He had on his flashing shoes from that horrible Super Bowl halftime show. He'd designed them himself and the fans couldn't get enough. This scene was far more interesting than the Pyle-Almeida fight, which was choppy and uneventful. In round one, Pyle dumped Almeida onto his hindquarters with an inside trip. In round two, Almeida responded with a nice double right hook to the body and head. But by the third Pyle looked disinterested and used his solid defense to stymie Almeida and pop him with soft shots. If the fight went two more rounds, Pyle probably would have dismantled Almeida until there was nothing left but an empty black belt. But he didn't have two more rounds, and it didn't matter since the judges unanimously determined that he'd already won.
Anthony Njokuani (14-4) came from Las Vegas by way of Nigeria. Edson Barboza (7-0) came from Jupiter, Florida, by way of Brazil. Both were sleek and lanky and ready to put on a show. Barboza started first and fast, hands high, relaxed and light on his feet and lashing at Njokuani with kicks. This was standup was on another level. He looked like a Brazilian soccer forward cracking onto half volleys. By the end of the first, though, Njokuani had settled down and the kicks hissing through the air around him no longer seemed to disturb him. When Barboza tried a spinning kick to the head in the second, Njokuani grabbed his opponent's toe and walked him across the ring and threw him down to create an opening for a punch. By the third, the two were at war and the fight had become a beautiful kickboxing exhibition with both men throwing accurate punch-kick combinations. These were the combos that get drilled over and over in the gym until they become second nature and somewhat scripted. And this is why Njokuani lost. Because Barboza was better at improvising. He ended the fight with an amazing spinning hook kick that landed flush on Njokuani's cheek and made the crowd roar: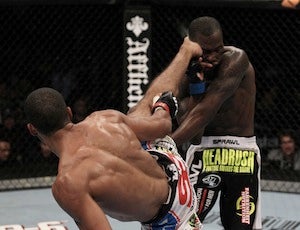 The next fight didn't make it out of the first round. Light heavyweight Luiz Cane (11-3), a hulking brute who looked much bigger than his weight class, plodded with determination toward Eliot Marshall (11-3) and began throwing hard punches. Cane had no intention of making this anything but a slobberknocker and it was easy to see why. Once Marshall felt Cane's power, he folded up and went down. He turned to his side and didn't seem to be defending himself, but the referee let Cane hammer him over and over on the ground for a long time. People in the audience began screaming at the ref to stop the fight. After a while, he did.
It was time now for the heavyweights. A few rows behind me, a group of stern Croatian men with shaved heads stood up. They wore the familiar checked colors of their country. Similar pockets of these hard cases were stationed throughout the arena. The Croatians come out in numbers to support Mirko "Cro Cop" Filipovic (27-8-2), although it's getting harder to understand why. I was in Croatia when Cro Cop was at the height of his powers, awing crowds in Japan with thunderous knockouts. He was a national icon in his home country. Underground fight clubs were popping up in Zagreb and Split as younger hard cases tried to emulate their hero. But on Saturday Cro Cop didn't look like he even bothered to warm up for his fight against Brendan Schaub (8-1). A former college fullback, Schaub is nimble for a man of his size. He'd warmed up plenty and in the first round was able to use his speed to take down Cro Cop. Even during the stand-up, Schaub looked more comfortable. The entire arena could see when Cro Cop shifted his weight to his massive rear leg to load up one of his famous kicks. But Schaub could see it, too, and kept football tackling the Croatian. In the second, Cro Cop had more success by throwing short punches and elbows from the clinch, but that wouldn't last. In the third, Schaub opted to strike with Cro Cop again. He threw a bomb. It landed behind Cro Crop's right ear and switched off his brain, sending Cro Cop spilling down face first, his leg bending awkwardly underneath him, his head bouncing off the canvas. Schaub stood over Cro Cop thinking about whether he should punch him again. In the few seconds it took Herb Dean to intervene, Schaub made up his mind. And his decision was to punch Cro Cop in the face again, which brought the Croatian back to life but only enough so that he could see the ref waving it off and maybe realize that he wasn't on a Dalmatian beach but rather in Newark, where his job in the UFC – if it exists any longer – is to lose violently and remind people of a ferocious Croatian heavyweight that used to fight MMA.
The introduction for New Jersey native Dan Miller (13-4) was about as backhanded a compliment as you'll hear in the fight game. According to one of the UFC commentators, Miller is "always ready to fight on short notice," which means that he's often being fed to men who are stronger, faster, and in better shape than he is. That's a good way to describe Nate Marquardt (33-10-2) from Denver. At one time, Marquardt was supposed to be the next great middleweight. He only became the next very good middleweight, susceptible to submissions and strange losses. Marquardt, though, is a hybrid fighter, and hybrid usually find success in modern MMA. And on Saturday night, he was much better than the one-dimensional Miller, who kept trying for pointless guillotine chokes until he lost a unanimous decision.
If fans in Newark felt bruised after Miller's loss, they were glad to learn that Miller's scruffy younger brother, Jim (19-2), was up next against Kamal Shalorus (7-0-2), an import from Iran. Jim Miller was on a six-fight win streak in the ultra-competitive lightweight division and was taking on a guy making his UFC debut. So you kind of figured he'd win. It's bad business to have too many local guys go down, and Miller had no intention of doing so. He took the fight to Shalorus, who fell into a bad pattern: back straight up, then inch forward, then throw wide punches that never find their target. Miller soon began to time Shalorus and in the second round took him down and took his back and for three minutes tried to secure a rear naked choke. Shalorus defended it well, although his jaw must have been sore after Miller nearly broke it off. The fight ended quickly in the third, when Miller landed a screaming left uppercut that staggered Shalorus. Miller rushed in with a knee to the head and pounded out Shalorus on the ground like a man who wants a title shot, which he deserves.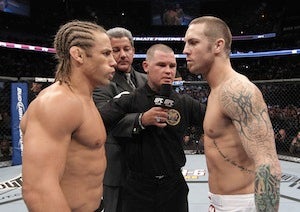 The co-main event of the night featured Eddie Wineland (18-6-1) and Urijah Faber (24-4), who came prancing out to the cage to Dr. Dre's "California Love." Faber is nicknamed the "California Kid" and he's all blinding smiles and blond cornrows. He has a clef in his chin that could hide a cold compress. If he weren't so small, he'd probably be a model. Faber always knows where the cameras are and often smiles at them obscenely. On Saturday, Eddie Wineland did not appear to like this behavior. In the first round, he locked up with Faber and put on a display of balance, first Faber trying to throw Wineland and failing, then Wineland trying to throw Faber and succeeding. But Faber is curiously powerful for a dwarf and cannot be held down. He popped up and clubbed Wineland with a right on the head that raised a golf-ball-size welt. In the third, Faber began to outclass Wineland, who was game but had an erect side-to-side striking style that made him easy enough for the faster Faber to hit with one-off punches. If the UFC wanted to test the highly marketable California Kid without exposing him to too much risk, this was sound matchmaking that resulted in a sound unanimous decision. "Hide your kids. Hide your wife," Faber told the crowd after his hand was raised. You know. Just in case. Post-fight energy drinks make people crazy.
* * *
If a lesson were to be gleaned from the undercard, it was this: Predictability will get you hurt. At the higher levels of the sport, creativity wins out. No fight made this more apparent than the championship match-up between Johnny "Bones" Jones (12-1) from Endicott, New York, and light heavyweight titleholder Mauricio "Shogun" Rua (19-4) from Curitiba, Brazil. Jones pumped up the crowd by walking out to Jay-Z while a star struck Ice-T snapped photos from the front row. Jones cat crawled to the cage door, said a prayer, then cartwheeled into the spotlight. A lot of people thought the 23-year-old might be too inexperienced to challenge for the title, but talent is obvious and, in Jones, it has gone from raw and bursting to polished and lethal. Even as a grim Shogun emerged to blaring techno, his corner holding the belt aloft, Jones remained loose. Most fighters bounce in the cage to keep warm. Jones was dancing. A full jig. And then he began flicking his foot up to the top of the fence, which should have been a warning to Shogun.
Before the fight, Jones told viewers that he was "too new school" for Shogun. He was also too long, too aggressive and too strong. He opened the fight with a flying knee at bell that hurt Shogun. The fighters tied up near the fence and then, with frightful ease, Jones slammed Shogun to the mat with an arm across his throat. Even from Section 2F you would have seen the Brazilian's reality shift, his expression turning from grim to shocked. When he scrambled back to his feet, he looked dazed. Jones battered him with knees and hateful body shots and strikes that winged in from all precincts: side kick to the knee, push kick to the face, Superman punch, spinning back elbow to the head. This was a collage of new school. What made it all the more remarkable and understandable is that Jones is self-taught. In his solitude before hooking up with trainer Greg Jackson, he learned moves by studying YouTube videos and reading training manuals. He embraced the exotic. Jackson knows as sui generis fighter is dangerous. He has only fine-tuned Jones's creativity.
That Shogun survived the first round was impressive. That he survived the second was incredible. Unable to handle Jones on the outside, he jumped into his hooks, trying to close the distance. The problem was that Jones was also better than him at close range, especially with his knees. When the round ended, Jones was leading with body shots, and Shogun staggered back to his corner. The crowd could sense the inevitable. A New York stereotype near me leaped to his feet and began boasting to anyone in earshot that he'd bet on Jones to win. He became so animated that I hoped security would remove him, not because he was a threat but because any man who gets so brave when the outcome is certain needs a lesson. The woman a row down from me was much better. She was missing a tooth and wanted a picture of herself grinning.
For some reason, Shogun's corner let their man out for the third round. Shogun tried for a low-percentage leg lock, a desperate move when the fighters are so sweaty. Jones answered with high-percentage elbows and punches to the head. Back on his feet and badly hurt, Shogun took a hard knee to the body and slumped against the fence. Jones then fired a missile of a body shot into Shogun's ribs. The champ crumpled, broken in new ways, beaten so thoroughly it makes you question what he was doing in the cage at all.
After the fight, Jones rubbed his belt, kissed Joe Rogan and promised kids that dreams come true. And then, on cue, the action in the cage ended and the business resumed. Rashad Evans, Jones's former training partner and his latest concocted antagonist, materialized in the ring. Evans was supposed to fight Shogun tonight. He got hurt. Jones stepped in. The two men faced off, pretending to dislike each other. Hero and heel. The next act in the script. To follow the action in the cage, you must at least be aware of the action outside the cage. It is of a whole. And with that, the grand whirling money machine that is the UFC pulled up stakes and vanished from Newark as if it had never existed at all.