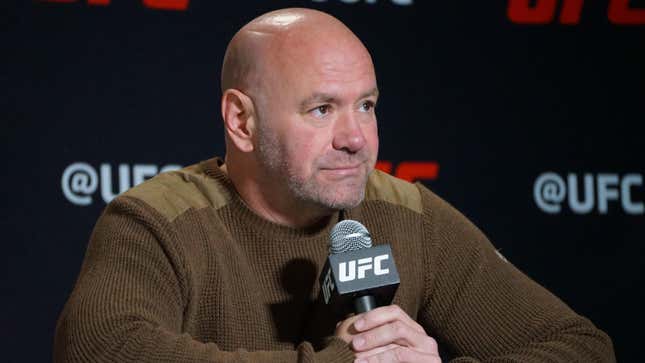 It didn't take long for Dana White to get back to business as usual.

On Wednesday he spent an entire press conference discussing how wrong he was after being recorded slapping his wife at a New Year's Eve party. By Saturday, he was back to defending the way that the UFC compensates its fighters after deciding to let Heavyweight Champion Francis Ngannou walk.

Scott Caan reflects on dad James Caan's iconic roles
T-Mobile Arena made a mistake when it revealed on its outdoor video boards that Jon "Bones" Jones and Ciryl Gane will be fighting for the UFC Heavyweight Championship. Advertisements for that fight weren't supposed to have been released at that time. The result, following UFC Vegas 67, White took some time to explain why this particular fight had been scheduled even though Francis Ngannou defeated Gane on heavyweight title fight a year ago.

White plays the blame game
White didn't even wait for a question. He dove right into how negotiations with Ngannou for a new contract fell apart, and he put the blame squarely on the former UFC Heavyweight Champion.

White told the media that UFC was willing to make Ngannou the highest-paid heavyweight in the organization's history, but it wasn't enough for the champ. Also, White attempted to take a shot at Ngannou's professional integrity. He said to the media, several times, that Ngannou is more interested in taking on lesser fighters for more money than facing Jones, whom White repeatedly referred to as the greatest fighter of all time.

In White's second press conference after striking his wife, he decided to spend time pumping up a fighter who has not competed in three years, in part because of his own domestic violence allegations. In late 2021, Jones faced charges of domestic battery along with headbutting a police car. He eventually pleaded nolo contendere to a misdemeanor charge – destroying property of another — and his domestic violence charge was dropped.

Who disciplines Dana White?
After the video of White striking his wife went public, he first said that he accepts full responsibility for his wrongdoing on TMZ. Then on Wednesday, at the UFC Vegas 67 Media Day, White spent nearly 15 minutes taking questions about the incident. To his credit, he offered no defense and he also asked those who are speaking up for him to stop. However, when asked about a potential punishment, the president of the UFC replied that if he spent time away on punishment the organization would suffer, not him. White said that his punishment is that he will have to live with the stain of what he did for the rest of his life, and any loss of respect that comes as a result.

That is a burden that I certainly would not want to bear, especially if I had offspring who also have to deal with the fallout of my shameful act. Anyone who desires to be thought of as a decent person would not want to be associated with the act that White was recorded committing, but he is quite fortunate that his wealth and status won't be harmed by what he did.

It's the dirty elephant in the room that NBA Commissioner Adam Silver brought attention to once the league's independent report on Phoenix Suns owner Robert Sarver's misconduct was released. Silver said flatly that owning a team is different from being an employee of the NBA or one of its franchises. The league later released a statement that attempted to walk Silver's comments back, but it was too late to divert peoples' attention from that grimy elephant.

White doesn't even own the UFC. He is the president. It's a role that could be considered similar to Silver's as NBA Commissioner, except for the fact that the UFC doesn't have 30 owners, it has one. It's owned by a publicly traded entertainment company — Endeavor.

However, the entity that Endeavor purchased is one that White has run for more than 20 years. He does the press conferences before and after the events. He wraps the championship belts around fighter's waists, and It's his voice that screams expletives when UFC is questioned about fighter pay.

There is no group of team owners, no other promoters, and no union that White answers to. For the most part, what he says about UFC is the law. In some ways, he is more powerful than any team owner in a major American sport. In those sports, all of the team owners have to answer to each other.

White answers to one company about a product that has become a force under his leadership. That's why as remorseful as he may be about that New Year's Eve moment, it didn't take long for him to start publicly bashing a fighter who was upset with compensation. It's already back to the regularly scheduled program for White.