Blues-Blackhawks shifts to Chicago tonight, with St. Louis up 2-0, but things are already getting desperate. Brent Seabrook was suspended three games for a dirty hit on Blues captain David Backes on Saturday, and now audio has emerged of that post-fight scrum appearing to capture Chicago's Duncan Keith taunting a glassy-eyed Backes—"Wakey, wakey, Backes!"
Backes is out of the lineup tonight with undisclosed injuries; probably a concussion at the bare minimum. That's rough enough for the Blues, even without the belief that the league came down fairly easy on Seabrook for the hit:
Setting aside any inherently flawed conception of what Seabrook objectively "deserves," three games seems about right given the NHL's internal logic: He's never been suspended before; suspensions are generally shorter in the playoffs; and the Blackhawks probably won't get out of the first round. But it is quite curious that the Department of Player Safety video, which nabs Seabrook for both interference and charging, never once mentions that he laid a headshot on Backes. Considering the outcome—a briefly motionless Backes struggling with consciousness—that's a somewhat inexplicable omission. It's almost as if DOPS picks the crime to fit the punishment.
The Blues are upset about two knee-to-knee hits from Bryan Bickell in Game 2, only one of them whistled. But nothing had players steamed more than the scrum after Seabrook's hit. As Backes had to be held upright, the video appears to show Duncan Keith chirping at him. It's impossible to be certain—the mic could have been picking up anyone's voice—but Keith's lips appear to be moving in time with the "wakey, wakey" taunt. And Blues players were in the middle of it believe it was Keith.
"I saw them talking to him," Blues enforcer Ryan Reaves said. "It makes it a little more gutless. I don't think there's any need for that when a hit like that happens. You don't need to be going after him when he doesn't even know where he really is. I'm not happy about that. I don't think anybody in this organization is happy about it. To see that happen, I think is just embarrassing in that organization."
G/O Media may get a commission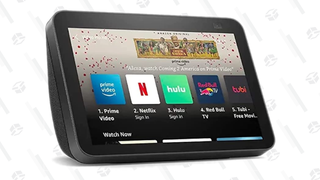 ("I don't remember everything that gets said," was Keith's weak response.)
Shit-talking, even to a groggy player, isn't beyond the pale. Things get heated in a game, and Backes plays a physical style that undoubtedly has more than a few of his opponents wishing he'd get wrecked. That doesn't make it right or tasteful, but whatever Keith may have said to an injured player is insignificant compared to the hit that actually injured him.
Blues coach Ken Hitchcock is done talking about Keith:
"That's something that the league can deal with, Duncan's comments or his mannerisms or whatever," Hitchcock said. "They can deal with that. I'm sure there will be somebody saying something to him."
And as Hitchcock would go on to point out, no one's clean. Based on the Seabrook hit and the Keith smacktalk, the Blackhawks look like the villains. But if we were to look at every single hit and eavesdrop on every single chirp, there wouldn't be enough fainting couches in the Midwest.
Some enterprising Blackhawks fan is selling a "wakey wakey Backes" t-shirt, because of course, but this beef is functionally over for now. At least until someone takes a run at Keith late in a blowout, sparking more fisticuffs and recriminations until the series is over and everyone shakes hands and then it all starts up again next season, one more incident thrown in with a history's worth of them. It's the circle of life of a divisional rivalry, where the hate is entirely real but rarely personal.