John Smoltz thinks the reason he got roughed up last night is because his balls were not properly rubbed down. Yet, opposing pitcher Bronson Arroyo threw just fine. Is it because he was rubbing something special on his own balls?
Jokic? Embiid? The NBA MVP is obvious... right? | Keep it a Buck(et)
St. Louis Cardinals pitching coach Dave Duncan sure thinks so! Smoltz had only walked three batters since coming to St. Louis in August, but walked five in just two innings last night. He complained during and after the game that the baseballs were too slick because they had not been rubbed down beforehand. (The home team's clubhouse attendants—in this case the Reds'—are responsible for that traditional duty.) However, the Reds starting pitcher went 8.1 IP and only walked one. So what's Duncan's theory on Arroyo's success? Pine tar.
I'm sure he had pine tar on his cap. He didn't have any problem getting a grip. Balls like that can generate a lot more movement than a slick ball that hasn't been rubbed up ... I've been around for 40-plus years now and I've never seen a major-league baseball game played with balls like that.
Duncan added that he saw Arroyo go to the his cap on nearly every pitch, and this AP photo (click to enlarge) seems to suggest that there was something under there that maybe shouldn't be. (Update: Arroyo's response—Yeah, I grab my (crotch) and do 8,000 other twitches. What you want me to do about it? That's how I pitch.") However, Duncan and manager Tony La Russa somehow think that pointing out that someone is breaking the rules is "gamesmanship" so they didn't say anything. (You're welcome, Kenny Rogers.) Also, the three Cardinals pitchers who came after Smoltz did just fine so maybe the bellyaching is just a cover for a lousy performance.
Yet the question still remains—were balls being rubbed, properly or improperly? And will we ever be mature enough to not make jokes likes this?
G/O Media may get a commission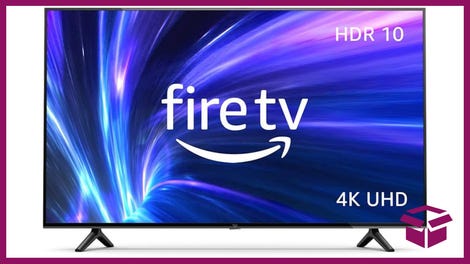 42% Off
Amazon Fire TV 50" 4K Smart TV
Balls.
Duncan says pine tar gave Reds the upper hand [St. Louis Post-Dispatch]
Pine tar incident [Cincy Enquirer]