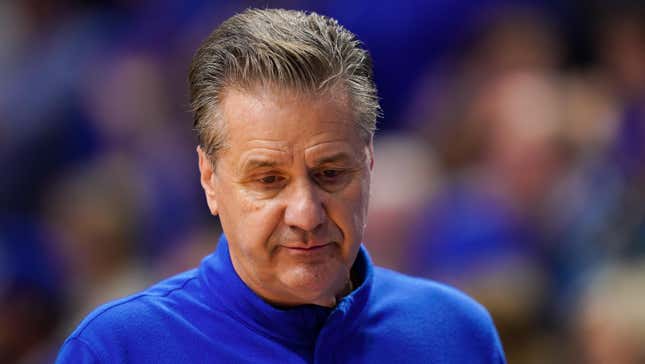 Both North Carolina's and Kentucky's men's basketball teams have already lost six games this season. Two of the college basketball's blueblood programs are struggling, and the NCAA Tournament might not be in the cards for them — but it's not like this hasn't happened before.

Grant Hill looks to repeat Team USA's 2004 "success"
College basketball goes as Duke, Kansas, Kentucky, and UNC go. And if you're wondering why this season hasn't been exciting, it's because the sport's biggest attractions have been underwhelming — particularly the Tar Heels and the Wildcats.

UNC's, UK's losses keep coming
On Tuesday, UNC fell to 11-6 (9th in the ACC) when it lost to Virginia on the road, while Kentucky dropped to 10-6 (12th in the SEC) after losing to South Carolina at home. Nobody wearing either shade of blue was happy. Due to a change in the times, and the NBA's rule that continues to ban high school players from entering the draft, college basketball is in a weird space. There are generally only two ways to operate. Go after talented freshmen each season that are destined for NBA stardom — which can anger some fans because there's a new roster each season, or build a veteran team with players who stick around for three or four years that NBA scouts aren't drooling over.

But, what happens when neither of those things is an option?

You have a season like this one.

Lack of NBA prospects
There aren't any surefire prospects in college basketball that have NBA GMs tanking and casual fans tuning in. And the veteran "household names" aren't bringing in the ratings, nor are they locks to be immediate impact players on the next level. For instance, Kentucky has a team full of older transfers who aren't getting it done in the same way that UNC's veterans from last year's national championship game aren't delivering on expectations.
NIT — Not Invited Tournament
The NIT Tournament is as real a possibility for North Carolina and Kentucky as the NCAA tourney is — as both programs have made recent appearances.
The 2009-2010 Tar Heels were coming off a national championship and featured a roster that included six players that would one day make it to the NBA. However, UNC finished that year with a 20-17 record and fell to Dayton in the title game of the NIT.

"It's a tough feeling right now, there's no question about that. It's been an unusual year for North Carolina basketball," Roy Williams said at the time. "I've lived a charmed life in the past, and this has been a little tougher. I'm so proud of our guys for coming to play in this National Invitation Tournament and playing so well up until today and getting us to this point. We just didn't finish the job."
A different kind of one and done
The 2012-2013 Wildcats were coming off a national championship and featured a roster that included five players who would go on to play in the NBA. But, Kentucky finished 21-12 and ended their season with a loss to Robert Morris in the first round of the NIT.
"They haven't had any discipline all year," coach John Calipari after the loss. "We ended on a note we've been talking about (all year). We can't really play (disciplined)."
Looking ahead
On Saturday, The Tar Heels will travel to Louisville to take on a Cardinals team that's 2-14, as they currently have four more games on their schedule against ranked teams. This Carolina team has already reached the six-loss mark before the 2009-2010 team that went to the NIT. Saturday is also when Kentucky returns to the court to take on No. 5 Tennessee in Knoxville, as they currently have six more games on their schedule against Top 25 teams. Like the Tar Heels, this Wildcat team has already reached the six-loss mark before the 2012-2013 team that missed the NCAA Tournament.
There's a lot of basketball left to be played. But if North Carolina and Kentucky don't make the field this year don't look at it as a surprise — the signs were there from the beginning.