Ted Agu was like many Berkeley students, in that he wanted to go to medical school after graduating. But Agu was also a walk on defensive lineman for the football team. After a team offseason workout on the morning of February 7, 2014, he collapsed with breathing trouble. Agu was taken to the Alta Bates hospital, where he died shortly after.
In August, his family sued the school for wrongful death on the grounds that trainers should have stopped the workout instead of pushing Agu. The workout that morning involved sprinting up and down the hills above Memorial Stadium (which are incredibly steep) while holding onto a rope.
In court proceedings this week, the University of California admitted that its negligence was significant factor in Agu's death. The San Francisco Chronicle has more:

UC Berkeley officials said in a statement that by declining to contest liability, they could focus the legal proceedings on appropriate compensation for the family.

The depositions, obtained by UC Berkeley's Investigative Reporting Program and shared with The Chronicle, offer contradictory narratives of the hours leading up to Agu's death. Cal staffers say they came to Agu's aid as soon as they noticed him falter and had to forcibly stop him from completing the workout. But teammates say he was visibly struggling for an extended period and fell on multiple occasions before he finally collapsed and team officials intervened.
Interestingly, the UC's testimony also reveals that the medical examiner's office initially misdiagnosed Agu's cause of death as a heart condition. Agu had the sickle cell trait, where red blood cells can bend and have trouble flowing through blood vessels at times of extreme exertion. Apparently, training staff knew Agu had the condition, yet pushed him anyway:
Documents filed in the lawsuit show that Cal football's head physician, Dr. Casey Batten, informed coaches and trainers that Agu carried the trait and instructed them in an annual briefing that they should immediately cease such an athlete's activity should any warning signs appear.
G/O Media may get a commission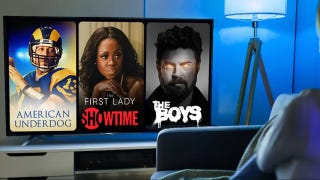 UNDER $1
99¢ Prime Video Channels
The events of that morning are under some dispute, and Cal players have said that the conditions surrounding Agu's death led them to lose trust in the coaching staff. Here's a recounting of the workout.
Jacobi Hunter, a former defensive tackle who was also injured that day and walked the route, testified that Jackson, the trainer, was looking directly at Agu when he fell, and did not offer aid.

About halfway up the hill on their last lap, [running back Daniel] Lasco testified, Agu finally stopped, bent over, fell to his knees, then curled into a fetal position. A few players said they helped him up and walked a few steps with him before he fell down again.

"It's like something just pulled a battery out of him, and he just stopped working," cornerback Trevellous Cheek said during his deposition.

Players said they threw water on Agu and yelled for team trainers.
Players who were on the team at the time paint a pretty damning picture of Sonny Dykes' coaching staff and how they handled the tragedy:
"We all lost a lot of trust in the coaches," Cheek, the cornerback, said in an interview. Multiple players, including Hunter, said they transferred to other schools or quit the team because of how football staffers handled Agu's death.

"We didn't have a grieving process," Hunter testified. "They just kind of, 'Well, we need to move on,' instead of giving the respect where it was due and the honor where it was needed."
The Agus' attorney said that they'd keep pressing their case and try to implement reforms:
"Saying that their wrongdoing solely caused this young man's death is certainly not enough," said Steve Yerrid, one of the attorneys representing the Agus. "There needs to be reform and meaningful change." Agu's parents, Ambrose and Emilia Agu of Bakersfield, opted to have their attorneys speak for them.
Photo via Getty | [San Francisco Chronicle]