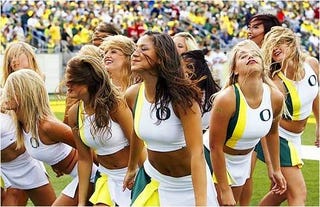 In the words of jeremycham, "it has begun". Some good stuff to start, but we could have used a few more Greg Paulus references.
• "With Paulus under center, I haven't wanted to see a QB get pancaked this bad since that punk Jeff George was playing." - FakeChuckKlosterman
• "Paulus hasn't forgotten how to flop, dove out of bounds rather than be touched." - theamann44
• "So at what point in the second half does Greg Paulus throw three bad passes, run back to the goalpost and allow all three INT's to score? I should've TiVo'd this shit." - kingdonut66
• "It's days like today where I wish College Gameday was sponsored by Hooters." - mattberry05
• "Seven followers, @TheHughJohnson? You are the Baylor Bears of Twitter." - damonbeau
• "Do they even have college football in Canadialand? Or colleges?" - therru [Ed. note: There's an adult learning centre located somewhere outside Winnipeg, I think.]
And one more from kingdonut66: "If Dr. Lou EVER says "Illinoise" again, I have a feeling a band of midwesterners will set up a committee to skull-rape him . . . with Penny Marshall's dick."
Seems fair. Keep them coming, gentlefolk.