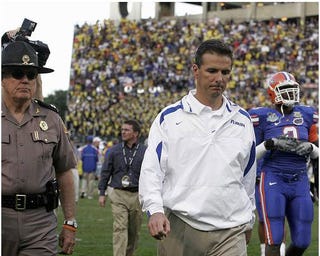 A day later, we've still got more questions than answers. Let's break them down, while we consider new reports that Urban Meyer isn't calling it quits at all.
To hear Meyer tell it, it's his heart, and it has been on his mind for years. He's long had a heart muscle defect, but has been able to control it with medication. "[T]he chest pains were controlling my life," as he told the Gainesville Sun. Skip Prosser's death in 2007 was the beginning of the end; going to the hospital before the SEC championship game was the final straw.
I can't imagine having to work a high-stress job like Florida coach while dealing with a bum heart, but that hasn't stopped commentators from speculating other reasons.
Some have pointed to a Sports Illustrated profile earlier this month that revealed his battle with a brain cyst. Take a read through this passage, and tell me this alone wouldn't be enough to make someone quit.
[L]ate in that 1998 win over Michigan he saw Meyer reeling: eyes saucered, face gone pale, knocked nearly unconscious by a blast of pain. "My head!" Meyer roared. He was holding the earflaps of his headset, sinking to a knee as if his usual storm-all that furious ambition and energy-had backfired at the source. "Agggghhh!" Meyer bellowed again. "My head!"
Despite his obvious health woes, the conspiracy theorists have been quick to jump in. Meyer's an Ohio native, and got his coaching start at OSU; who's to say he's not setting himself up for the Buckeyes job when it comes open. Or, try this on for size: he's planning to take over the Cleveland Browns. After all, what's the logical next step for a college coach who's reached the top, if not jump to the NFL?
But if you want to talk about a possibility with the ring of truth, read Pete Thamel's story in the Times.
There was no heart damage," Meyer said. "But I didn't want there to be a bad day where there were three kids sitting around wondering what to do next. It was the pattern of what I was doing and how I was doing it. It was self-destructive."

Meyer said in a telephone interview late Saturday that the hospital trip prompted weeks of soul searching that ended on Christmas night, when he told his family he would be leaving his job at Florida. He said that his 18-year-old daughter, Nicki, hugged him and said, "I get my daddy back."
Meyer talks about UF, and he talks about his players, but he keeps coming back to his family. He's got a wife and three children that have never known him as anything other than a football coach. His health problems were probably never going to strike him dead in the middle of a game, as various coverage seems to be implying. But they did make his life stressful, and made him worry about his family. It could be something so simple as just wanting to spend more time with them. What better time to walk away from Gainesville at the same time as his star quarterback, and therefore any immediate national title hopes?
And now come reports out of Florida that Meyer has only decided on a leave of absence, rather than resign. Whatever he wants to call it, this is probably accurate. High-profile coaches never call it quits for good. They always get the itch, and the only thing that keeps them from coming back is death. Like Bear Bryant, who retired from life a month after retiring from Alabama.
Meyer will coach again, somewhere, sometime. But he will coach again.
Meyer's Decision Forces Two Area Players To Rethink Commitment To Florida [Florida Times Union]
Meyer: "I Have To Focus On My Health' [Gainesville Sun]
Urban Meyer [Sports Illustrated]
Meyer Says He's Quitting as Coach of Florida [NY Times]
Source: Meyer Rethinking Retirement [ESPN]