Last night, US men's soccer traveled to Jamaica to take on the hosts in CONCACAF World Cup qualifying. It was their fourth game in the final Hexagonal round, where all six clubs play the others home and away. After 10 games, the top three teams advance to next year's World Cup in Brazil, while the fourth-place team has to face Oceania champion New Zealand for the right to play in the world's largest sporting event.
Jamaica sat in last place of the six, while the USMNT was in the middle of the pack. A win would vault the Americans to the top of the table, while a loss or draw would leave them more vulnerable to heartbreak as the final round went on. Team USA ended up winning, 2-1, but following a late Jamaica equalizer, America needed a stoppage time goal from Brad Evans to fend off their overmatched foes. While there's plenty out there about the scrappiness and effort and never-say-die heroics of the USMNT, and Jamaicans for that matter, the truth is that all three goals in the game were the direct results of defensive errors. That obviously doesn't bode well for either team. And for Team USA, who have ambitions to make the World Cup and actually compete there, their defensive lapses could prove disastrous.
The US started strong, and dominated play early. Midfielder Michael Bradley hit the post early, and they were able to create a few good chances as time went on. Thirty minutes into the match, they finally broke through when Graham Zusi got to the end line and directed a cross onto Jozy Altidore's head:
The American fans cheered Altidore's goal, but in reality, it was a gift from Jamaica's poor defense. Zusi ran at Jamaican left back O'Brian Woodbine, beat the defender, and was able to get an aerial ball into a dangerous area. That's OK; sometimes defenders get skinned. But what you should notice are Jamaican defenders Daniel Gordon, fronting Altidore, and Alvas Powell in behind the striker. Altidore's eight yards from goal, in front of goal, and neither defender recognizes the danger to even take a step toward him, let alone mark him tightly. As a result, an in-form Altidore had a free header at point-blank range to put USA up, 1-0. It was almost identical to the goal Jamaica conceded on June 4 against Mexico to lose, 1-0. They arguably outplayed El Tri, but their shoddy defense let them down.
It's not like Team USA's defending was was faultless, either. Though they dominated possession and stay compact in the first half, the Jamaicans got behind the away side more and more as the match went on. The American centerback pairing of Omar Gonzalez and Matt Besler seemed up to the task for the most part, but in the 89th minute Zusi fouled a Jamaican player about 40 yards from goal. (Zusi picked up a yellow and will miss Tuesday's game against Panama.) Midfielder Rodolph Austin swung in a free kick from the sideline, which substitute forward Jermaine Beckford headed down into the back of the net.
Beckford may have lined up in an offside position, but he was being marked by American Eddie Johnson, who watched the ball and lost track of the Jamaican. Gonzalez looked like he'd be able to track back to head the ball away, but he tripped in the crowd, and Beckford was free to tie the match with minutes remaining. It piled on to what's becoming a concerning trend for the USMNT, in which their defense lags a bit in the second half and struggles to deal with set pieces. It's the third match in a row they've conceded a goal from a dead ball.
G/O Media may get a commission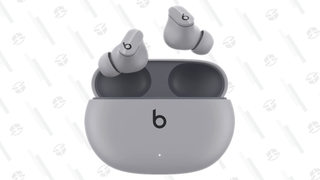 But two minutes into stoppage time, Jamaica's defense conceded again, this time from a USA corner kick. Bradley played the ball short and got it back, then beat Powell to the end line before passing it to right back Brad Evans. That's OK; sometimes defenders get skinned. But Evans was left wide open seven yards out to turn and curl a shot past the Jamaican keeper and into the far top corner.
As you can see from the replay, Jamaica had everyone covered. But when Evans popped up to provide an option for Bradley, Woodbine didn't follow. Evans was free to turn and score the game winner.
The American survived, and are tied with Costa Rica and Mexico with seven points atop the table. Costa Rica lead Team USA and Mexico in goal differential by one. Jamaica is in last, with two points from five games.
The USMNT's Tuesday match against Panama will surely be a tough challenge, since Zusi is suspended and midfield engine Jermaine Jones was subbed off in the second half with a concussion. It's still unclear if he'll play. To negotiate the Hex, the Americans have to clean up their defending and organization during set pieces, and hope players like Altidore and Clint Dempsey can continue to produce so the Americans don't need last-minute goals from Brad Evans.
Photo Credit: Getty