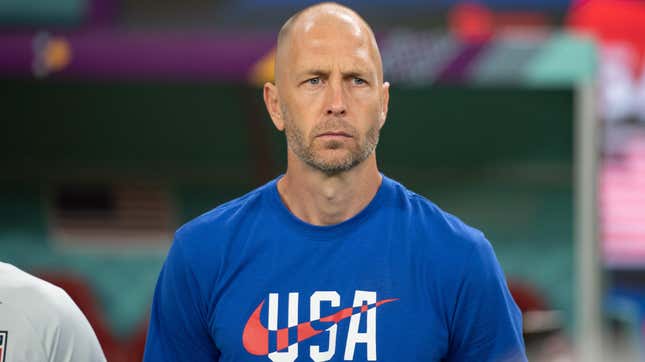 To suggest that US Soccer is a byzantine organization would be to suggest that they have any sort of rules and protocols in place. It rarely feels like they do, and sort of just make stuff up as they go, with mostly everyone screaming about protecting their phony baloney jobs. It's how Gregg Berhalter can end up with the head coaching job without them interviewing anyone else, even though it's a highly sought-after post. It contributes to completely angering and poisoning the atmosphere around the women's team for years, even though they should be the shining beacon of the whole organization. And the guy mostly in charge of that, Carlos Cordeiro, can find the tires to try and run for president again!

US Soccer was already being supremely weird this month, as Berhalter's contract ran out, and yet there had been no announcement that he was moving on, or that there was an extension, or that anyone had thought of either possibility. The usual January training camp for MLS players is around the corner, and yet the national team didn't have a manager. We might know why now.
Yesterday Berhalter, along with his wife, released a statement accusing someone of trying to blackmail him, and then coming clean with the story about what he would have been blackmailed with. Apparently, when both he and his wife were teenagers, they had a drunken argument that ended with Berhalter kicking his wife in the legs. This is one of the many shades of domestic abuse, and certainly can't just be waved off, but it is also decades in the past and clearly, he and his wife have come to terms with it, moved past it, and gone on to live happily ever after.
US Soccer went on to release their own statement, claiming they became aware of this story a month ago and then alluding to "potential inappropriate behavior towards multiple members of our staff by individuals outside of our organization." Which could mean anything, but clearly Berhalter is on ice for a bit while US Soccer completes their investigation of…whatever. It would appear Berhalter tried to head off any blackmail attempt at the pass, and yet is still frozen out from the job he may or may not want to hold onto. But at least he didn't pay this individual anything. We guess.
Anyway, it's years before the USMNT has really anything to do that matters, so that's plenty of time for this all to blow over. It could cloud the air around Berhalter from continuing, but again, the men's team won't be in the spotlight until possibly the summer of 2024. It's never simple with these guys. At least US Soccer is promising total transparency, and given how the Yates and NWSLPA reports went, they'd better. But anything is possible with US Soccer, where people throw ducks at balloons and nothing is the way it seems.
Rumors of Jim Harbaugh to the Panthers, NFL swirl
So we're doing this whole Jim Harbaugh back to the NFL thing again, huh? Perhaps the Panthers were just blown away by Michigan's complete inability to deal with a QB who could run or their innovative defensive tactic of blitzing heavily while laying off in coverage, creating a bubble of space that TCU threw for 893 yards through.

In the end, Harbaugh has probably taken Michigan as far as it will go, with back-to-back appearances in the playoff. It's about as good as anyone in Ann Arbor could hope for, though everyone there is certain that anything less than eight national titles in a row is a failure. Which is strange as they've never won a genuine one.
Harbaugh certainly wins wherever he goes…just enough to break your heart. Which is probably an improvement on where the Panthers are, to be fair.
Rangers' Chris Kreider tries to be cool, fails
And finally, if cradling the puck off the ice on your stick and then depositing it in the net from behind it is called "The Michigan," then Chris Kreider introduced the world to "The Indiana" last night: