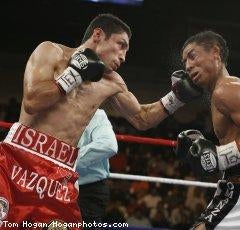 Nobody thought that Israel Vazquez could be ready for his rematch against Rafael Marquez just five months after he took that battering. Freddie Roach, Vazquez's highly regarded trainer in that fight, declined to train him for the rematch if he was going to fight just four months after major surgery to the fighter's nose. With all of this going against him Vazquez stepped into the ring against the most feared pound-for-pound puncher in the world and took everything he got back in March. This time it was Vazquez's eyes that were cut and pummeled by the Marquez, who came in as the third ranked PFP boxer in the world. None of this was enough to keep the stifle Vazquez's strength and desire to achieve.
If you missed the fight last night I'd recommend checking out the tv listings for Showtime, it's bound to be replayed shortly. The third round has to be considered a contender for round of the year but it was the sixth that decided the contest. Vazquez crushed Marquez with a left hook that put him on the canvas—briefly. As soon as Marquez was back on his feet Vazquez was back on the attack. Marquez began to stumble backwards with a dazed look in his eyes, moments later referee Lupe Garcia stepped in to call the fight. Marquez and many observers felt the fight was stopped too quickly but Garcia probably did the right thing by protecting a badly hurt fighter. Assuming that all the cuts heal the trilogy should be capped off early next year.
In the other big fight of the night (HBO PPV) the legendary Erik Morales went down in a unanimous decision at the hands of the lightweight champ, David Diaz. Obviously I didn't see the fight but from what I've read it was as entertaining as you could expect. Although he's only 30, Morales is retiring after a grueling 15 year career that began back in Tijuana. His legend was cemented by his pair of trilogies against Manny Pacquiao and Marco Antonio Barrera, two of the best boxers of their time.
Here's a decent highlight package that HBO put together a while back. It features some great moments but it hardly captures Morales' career. Be sure to check out the replay of his final fight next weekend.
photo via The Sweet Science