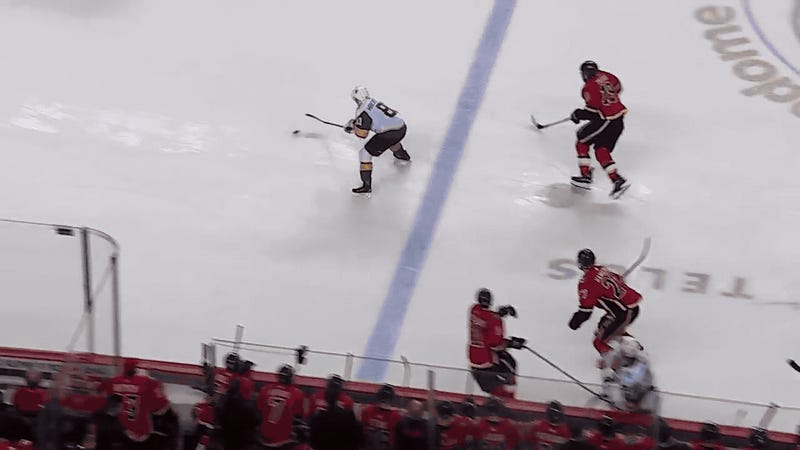 Here is a post-all-star-break sentence that absolutely nobody in hockey could have predicted at the start of the year: with their 4-2 win last night against the Calgary Flames, the Vegas Golden Knights added two more points to the best record in the Western Conference. We're far enough into the season now that this expansion team's success isn't just a fluke anymore. The Golden Knights are legitimately really good.
Vegas got their 33rd win in thrilling fashion, reversing a 2-1 deficit with under two minutes remaining by scoring two goals in 10 seconds. One was a lucky bounce that Erik Haula pounced on, but the follow-up was a great shot from Jonathan Marchessault, who sped into the offensive zone and found space to fire a rocket just under the crossbar. The Golden Knights finished it off with an empty netter less than a minute later.
With the caveat that the playoffs are heavily dependent on luck, the Golden Knights, in their first-ever season, are somehow major contenders. Not only are they the best team in the West by points, but they also have the conference's leading goal differential at +38. They have the second-best offense in the league, with William Karlsson and James Neal both ranking in the top-12 for goals scored this year, and the team's goals-against numbers are almost as good, despite the fact that they've had to ice five different goalies due to injuries. Most importantly, the Knights have an experienced netminder in Marc-Andre Fleury who, when healthy, is putting up save numbers that are on pace with his career bests.
And honestly, that's all fantastic. Instead of the warm weather/small market/weak team recipe for irrelevance that this whole Vegas experiment threatened to be, the Golden Knights have become the most fun team to watch in the entire NHL. At home—where they're 19-3-2—the evenly split atmosphere between home fans and road-team tourists makes all their games dramatic, and wherever they are, this roster of expansion-draft castoffs that other teams didn't want make for a great underdog story. And with improbable wins like that one in Calgary last night, it keeps getting better.