One week after being sentenced to 40 to 175 years in prison by Ingham County Judge Rosemarie Aquilina, Larry Nassar appeared in an Eaton County court room today for another sentencing hearing. Nassar pleaded guilty to three counts criminal sexual conduct in November, all of which took place between Sep. 2009 and Sep. 2011. The abuse took place at Gedderts' Twistars Gymnastics Club, and two of the victims were between 13 and 15, while the third was under 13. Each count carries a minimum of 25 to 40 years, and he will serve whatever sentence he earns concurrently with his Ingham County sentence, which he will begin to serve after his 60-year federal sentence.

Janice K. Cunningham announced in court today that a total of 265 women have told law enforcement that Nassar abused them. At Nassar's Ingham County sentencing, 158 women gave impact statements, and 65 are currently scheduled to speak at the Eaton County sentencing, though prosecutors said that number will also likely end up being higher.
The first victim, a 17-year-old who says Nassar first abused her when she was 10, said she'd been to eight different court procedures, and was laughed at by Nassar's attorneys at one. Her younger sister also spoke, and said that she wanted to be a sports doctor before Nassar's abuse changed her life forever. "He slid his ungloved hand up my leg and back into the most innocent part of my body, and I felt searing pain. This time, for 30 minutes... he grunted, while I lay there terrified," she said.
Three of the first four people to speak were the victims whose abuse Nassar pleaded guilty to, and the third, Anne Labrie, spoke publicly about her abuse for the first time today. She described panic attacks, a strained relationship with her parents, and "self destruction" caused by her abuse, and she also made a point of calling out the system that allowed Nassar to get away with it for decades.
G/O Media may get a commission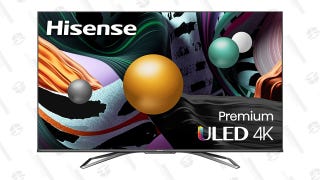 Save $350
Hisense ULED 65" Android 4K HDR Smart TV
"Our bodies did not belong to us. Our experiences were constantly invalidated ... we were taught not to be respected, and to be judged by men," Labrie said. "Coaching by fear, intimidation, shame and favoritism was the norm. We'd been condition for years to obey at all costs. How could we have been expected to question [him?'] My mother once told me, if a boy ever treats you the way John [Geddert] does, leave him. When numerous adults refused to believe Larry's victims, when MSU and USAG refused to listen ... this is a direct reflection of the patriarchal system we all function in today. This is what makes the Nassar trial bigger than gymnastics."

Many victims who spoke today struggled with thoughts of self-doubt, or a fear of being labeled "dramatic" or seen as betraying Nassar. Madison Bonofiglio said she began seeing Nassar after fracturing her neck, and said he would penetrate her while massing her neck, chuckling as he told her she was "tight, just like my wife." When she first testified, she recalls Nassar laughing at her, as if she was making it up. "It really makes me sad, that some of my best friends think because they were only assaulted by Nassar 5-10 times, that it doesn't matter," she said.
Victims as young as 13 spoke, and several of the women and girls who gave statements described attempting suicide after being abused by Nassar. Many survivors described a feeling of hopelessness, of being unable to process their abuse or being afraid that nobody would believe them. When they did, they were often shamed or harassed.
An anonymous survivor talked out about the toxic culture that enabled Nassar, noting that coaches would kick, throw water bottles at, and berate her and her teammates for limping or showing any signs of injury. "I would lay on my back, and he would ... fondle my adolescent breasts. He would work down to my pubic bone," she said, "He always found his way to my butt, to 'make sure everything was where it should be.' I thought this was the price to pay [for health.]" After she opened up to a friend while attending a Lutheran school, she was told that being abused was a sin, and she attempted suicide.
Those who spoke described the roles that Michigan State, USA Gymnastics, and John Geddert played in enabling Nassar's abuse. One woman wrote that Geddert told her what Nassar was doing was medically legitimate, and that she needed to "do her research," while another said "I'm ashamed to be a Spartan." Court proceedings will resume on Friday, and are expected to continue into next week, as more women come forward to speak about the abuse they endured.