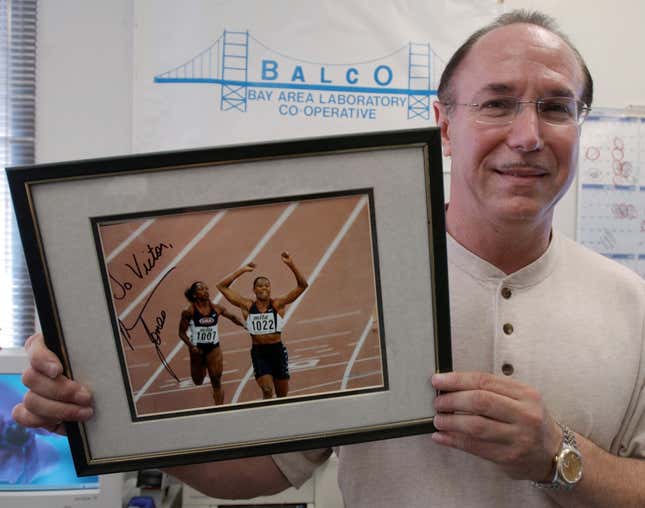 There is a warped irony in the timing between Netflix's new sports-doping documentary, Untold: Hall of Shame, and the most recent suspension of a professional athlete for violating a league's performance-enhancing drug policy.
The doc — which debuted last night and details the rise and fall of BALCO, its mastermind, Victor Conte, and the performance-enhancing drug scandal that rocked most of the sports world in the early 2000s — is presented with the nostalgia of a long-gone era. Yet, just two weeks ago, Dallas Cowboys RB Ronald Jones was suspended for violating the NFL's PED policy.
Don't beat yourself up if you didn't see the news. Jones' paltry two-game ban was covered with the shrug of a strained hamstring injury. Granted, Jones is a bit player, and when DeAndre Hopkins was nailed with a PED ban in 2022, the coverage and interest were a bit more intense, though nothing like they would have been during the BALCO years — back when the suspensions of MLB role players such as Alex Sanchez led to big headlines.
The lack of attention the Jones suspension received led me to this conclusion: The leagues have won. Despite all the handwringing and platitudes over the past 20 years about the safety of players and maintaining a level playing field, the execs running American pro sports have always known that PED use was, and is, a product enhancement. "Bigger, faster, stronger" has always sold more tickets and merchandise. PEDs have always, first and foremost, been a PR problem. Now, that problem is gone. And, according to Conte, that's exactly how the leagues want it.
"It was tainting their logos," Conte told Deadspin. "It's bad for business to catch these athletes."
Conte, who now runs Scientific Nutrition for Advanced Conditioning and works mostly with pro boxers and MMA fighters, has been a voice for stronger testing since he did four months in jail for his role in the BALCO scandal. He says not only have the leagues won the PR battle, but they are aware the majority of their players are still doping — and not getting caught.
"An overwhelming percentage of elite athletes are using," Conte said. "Circumventing the testing is like taking candy from a baby. I can tell you 100 percent that the leagues know all this."
If anyone should know, it's Conte. From the late 1990s into the mid-2000s, Conte helped the likes of Marion Jones, Tim Montgomery, and Barry Bonds shatter records while avoiding positive drug tests. Conte says today's testing allows a level of doping that, while lower than the good old days of 73-homer seasons and world-record race times, still gives athletes an edge.
"When your body makes a substance such as testosterone or human growth hormone naturally, your testosterone-epitestosterone ratio is 1 to 1. The testing triggers when the ratio is elevated to a 4-to-1 ratio," Conte said. "Your body makes 7 mg of testosterone per day. If you artificially increase to 28 mg, you'd be flagged [by the test]. But if you add 14 mg to 21 mg, you fly under the radar.
Conte continued: "You don't get the same level of performance [at the decreased doping level]. Why do you think they aren't hitting 80 home runs anymore? So it's not that [athletes] aren't using. They are only getting 25 percent of the effect. Does that give you enough to give you an edge? Yes."
This sort of quote from someone such as Conte used to send news cycles spinning for days and weeks. Now? Not so much. The leagues have little need to fear what Conte's assertions actually mean. They have convinced their fan bases — and most journalists — that the steroid era is over and their testing is doing its job at catching cheats. And, for the record, the NFL has suspended more than 250 players for PED violations since 2001, while MLB has had multiple players test positive each season since its first round of testing in 2005. The leagues sell this as the system working. (The NFL did not respond to a request for comment. An MLB official sent Deadspin the outline of its testing protocol when asked for comment.)
But if what Conte says is true, those numbers the leagues tout as proof of clean competition would be nothing more than a smokescreen. Then what?
"Leagues took advantage of the disruption in media"
"I don't know if things are better now because I don't see any reporting on it," said Teri Thompson, the founding editor of the New York Daily News Sports I-Team and co-author of books such as American Icon: The Fall of Roger Clemens and the Rise of Steroids in America.
"The disruption in media has made a difference in this kind of work. It's so hard to do. It's also very expensive. You need sources and travel and to stay on it forever."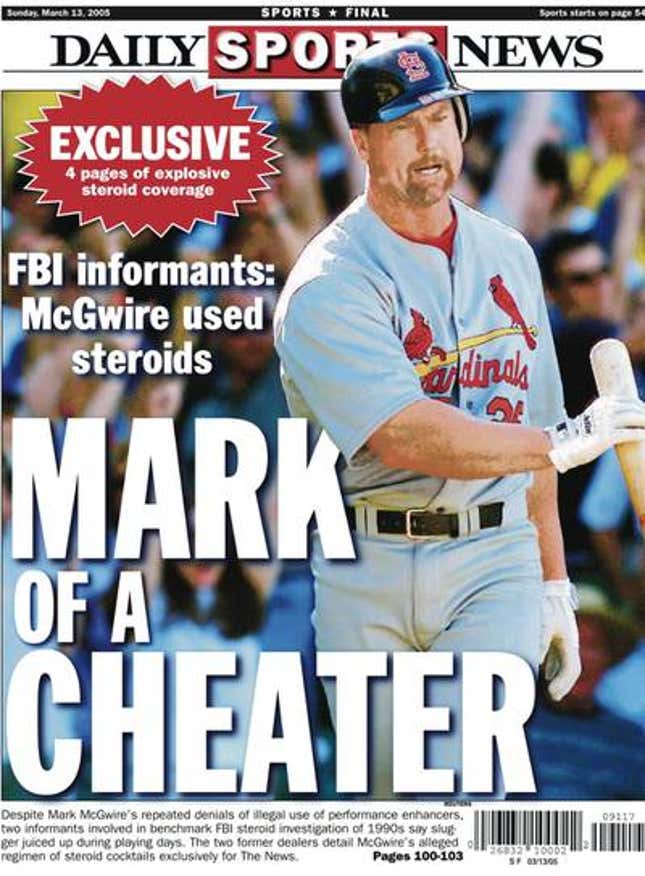 Thompson ran the News' investigative unit from the early 2000s through 2015. (I worked for Thompson in the News' sports department from 2004-2012.) Her team broke stories about steroid use in sports, ranging from Mark McGwire to Clemens to Andy Pettitte and more. The News, along with the San Francisco Chronicle, were among the publications leading the charge on PED reporting. All that is a distant memory.

"The leagues took advantage of the disruption in media," Thompson continued. "Those stories put so much pressure on the leagues. And the players union fought to keep drug testing out of the leagues. There's no pressure from the media anymore."

T.J. Quinn, who worked under Thompson on her investigative unit and now works at ESPN, suggests there is another factor that compounds the economic disruption of sports media.
"Nothing sticks to anyone anymore. Look at politics," Quinn said. "There is no such thing as shame anymore. The fans made it clear they did not care."
Charles Yesalis, a longtime performance-enhancing drug expert at Penn State, seems to agree. "I've argued for years drugs add to the entertainment, because what you pay big money to see is bigger-than-life people doing bigger-than-life stuff," Yesalis told USA Today in 2022. "And if you aren't, then hell, watch a high school football game instead."
When you watch Untold: Hall of Shame or if you lived through the 2000s, you'd find today's level of apathy difficult to comprehend. As Montgomery points out in the film, his and other athletes' careers were ruined by getting caught using PEDs. Bonds is still not in the Hall of Fame. Neither is Clemens. Yet, other known or suspected steroid users are not nearly the pariahs that, say, a Marion Jones or Rafael Palmeiro are. Alex Rodriguez, for example, continues to land TV gig after TV gig. Does anyone think that if DeAndre Hopkins' stats are Hall of Fame worthy when he retires, his PED ban will keep him out of Canton?
After a decade-plus of Congressional hearings, improved testing protocols, and high-profile suspensions, it seems as if the world has accepted PEDs as part of the game. Health risks and fair competition be damned.
"A combination of leagues, players, and government have felt like, 'We've dealt with this, now let's move on,'" Quinn said. "[Journalists] lost interest too, I think."
With gambling suspensions becoming the scandal du jour, it's not hard to see why interest levels have waned. But Conte's suggestion about the ease with which athletes skirt PED testing and the percentage of athletes still doping should concern the leagues, shouldn't it?
"All the leagues fought to the teeth to keep those stories quiet," Thompson said. "That whole period of time during the 2005 Congressional hearings was a pretty amazing time. You really thought there was a little progress with making a level playing field. But that was all lost."