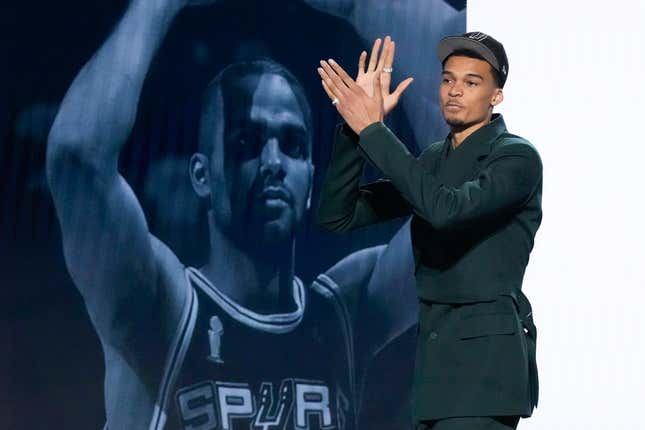 Every betting site has Victor Wembanyama installed as the runaway favorite to earn Rookie of the Year. In case you want to start engraving Victor Wembanyama's name on the award already, take a moment to consider this. Rookie of the Year hasn't always gone to the incandescent talent from every draft class.
Is pulling Victor Wembanyama from NBA Summer League the right move? | Agree to Disagree
In 2017, Joel Embiid lost out on Rookie of the Year to Malcolm Brogdon because he played in just 31 games. In those appearances, rookie Embiid was able to log 20 points, 8 boards, and 2.5 blocks per night, which is still his career-high. Brogdon averaged the fewest points and minutes per game of any winner in the history of the honor. The following year, Ben Simmons beat out Donovan Mitchell, despite a late campaign from Mitchell's supporters, and the Jazz rookie himself.

No one is predicting Wembanyama will be plagued by physical ailments this season. In fact, the Spurs will do everything possible to prevent cataclysmic injuries. Get ready for the Rookie of the Year winner to go to the wrong player even more often than the electoral college thanks to Adam Silver's new attempts to get stars to play. As part of the new CBA, players will be required to appear in at least 65 games to retain their eligibility for All-NBA, All-Defense, and individual accolades that season.

Expect load management with Wembanyama
That means Wembanyama won't be able to miss more than 17 games of action. After leading France's top domestic league in rebounds and points, Wembanyama is used to handling a significant load of an offense against pros. However, his body will have to catch up to his precocious game.

Situationally, Wembanyama should be in an ideal position to put up big numbers on a bad team, a prerequisite for any Rookie of the Year. However, given the delicate nature of his unique length as well as the balance between helping him pack on pounds and developing his game. Ensuring he plays enough games to win Rookie of the Year will be secondary to everyone in the Spurs organization.

If you've seen any of the extensive preparation that goes into getting his sinewy, 7-foot-4, 230-pound frame ready for the 34-game schedule he played in France, you'd understand my skepticism that he'll double that activity in 2024. If 25 years of Pop has taught us anything, it's that he'll gradually bring Wembanyama along. You can almost bet that the father of load management will have a comfortable seat prepped for Wembanyama 10-15 games next season.

Brandon Miller should be the RoY frontrunner
On the other hand, Brandon Miller is walking into a situation that he's built to thrive in right away. If there were a Best Rookie in Five Years award, the odds aren't in his favor. But if any rookie is durable enough, in a position to garner over 30 minutes, and brash enough to immediately impose his will on an offense it's Miller. Alongside LaMelo Ball, Miller's easily definable role as a wing scorer and defender.

As far as Rookie of the Year is concerned, Miller's cookie-cutter frame and great, but not quite transcendent complement of moves makes him the obvious frontrunner. The learning curve is short for the role Miller will be assigned to play. It will resemble much of what he excelled at throughout his freshman year at Alabama. To top it off, Miller and the return of Ball could be enough to propel the Hornets into the playoffs after a demoralizing year. Most importantly, Rookie of the Year is a regular season award, therefore his aspirations of emulating Paul George won't affect his candidacy if the Hornets reach the play-in and he channels his inner-Playoff P.

Portland Trail Blazer point guard Scoot Henderson has a higher upside than Miller, but he's a 6-foot-2 playmaker in an offense crammed with shotmaking guards, Henderson's minutes will be a rollercoaster affair from night to night. Coupled with Damian Lillard's desire to win now and you've got the makings of a rookie year that will likely be judged by flashes of greatness rather than awards. Lillard could still be moved down the line, facilitating an expanded role for Henderson. However, mastering the intricacies of point guard in the second half of an NBA season quickly enough to unseat a rookie who has balled out all season is a steep hill to climb.

Ausar Thompson should be in the RoY discussion
Rockets guard Amen Thompson is in a similar boat at Henderson. Amen led the Overtime postseason in assists and boasts eye-popping athleticism. Both are ingredients for a serious Rookie of the Year contender. He'll be jostling for position beside Jalen Green, but his hopes hinge on what James Harden decides to do in free agency. Harden building a pyramid containing his career tomb in Houston would provide him with the best form of mentorship. However, a developmental year is the antithesis of a scenario in which a Rookie of the Year contender blossoms.

If anything his brother Ausar is the Thompson twin most likely to contend for Rookie of the Year playing beside Cade Cunningham. The remainder of the top 10 is populated by another tall, positionless Magic player in Anthony Black. Eventually, Black's jumbo playmaking will be praise-worthy, but right now he's underutilized on a team that lacks shooting and already has a slew of distributors in Cole Anthony, Jalen Suggs, and Markelle Fultz. The spacing on the Magic is going to be ugly and the Magic haven't shown a propensity for putting rookies into great positions. Putting the recency bias of Paolo Banchero's success story aside, the Magic have allowed Franz Wagner, Cole Anthony, Mo Bamba, Jonathan Isaac, and Aaron Gordon to wither on the vine in the last decade.
Could Chet Holmgren make a case for himself?
But remember when I used Ben Simmons and Joel Embiid as examples of the Wilt Chamberlain trophy being awarded to the wrong rook? Both Simmons and Embiid missed their actual rookie seasons. The stars are aligned for Chet Holmgren to swoop in and do the same. The Oklahoma City Thunder rook was sidelined for the entire 2022-23 campaign due to a Lisfranc injury.

Lest we forget, Holmgren is a garbage disposal in the paint, swallowing wasteful shots for them never to be seen again. During his brief pro debut during the 2022 Summer League, Holmgren humbly averaged 14 points on better than 50 percent shooting from the field, 8.4 rebounds, 2.8 assists, 2 steals, and 2.8 blocks. Against Utah, he set a summer league record for blocks in a single game.

Of course, Holmgren will face a similar issue as Wembanyama. He's a year ahead in his physical development, but is also coming off injury. You can already bet that he and Wembanyama will be exempt from back-to-backs and even the slightest lower-body injuries will lead to them being rested for a game or more.

Miller, however, won't have to be handled with care and transported from city to city in styrofoam. Barring any sleepers like Indy's Ben Sheppard or Jordan Hawkins being given the green light to activate New Orleans' dormant perimeter shooting offense, Miller may be the biggest immediate difference maker.

---
Follow DJ Dunson on Twitter: @cerebralsportex