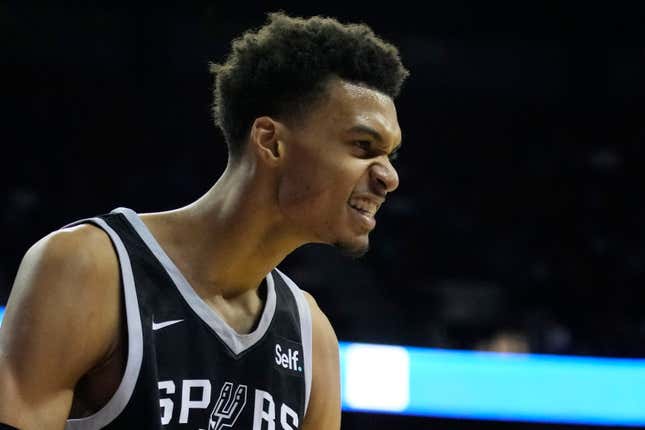 Victor Wembayama's rookie summer league didn't have quite the immediate impact of Zion Williamson's. There was no steal in which he wrestled the ball from the clutches of NBA starter and went Daryl Dawkins on the rim, nor an earthquake that stopped the game. What Wembayama was able to accomplish through two games was prove that the advertised never-before-seen skillset is legitimate.
Is pulling Victor Wembanyama from NBA Summer League the right move? | Agree to Disagree
Even during the first game, less than 48 hours after he and Brittney Spears became embroiled in controversy without ever making eye contact with each other, Wembayama had a rough debut from the field. He went 2-13 from the field and scored only nine points. During the first quarter, there were unfortunate bounces on his shot attempts but he appeared to be in control of the game. He even blocked a shot with his forearm within the first three minutes of play.

As the game progressed, Wembanyama's offense became increasingly erratic. He shot some airballs and his turnovers, along with his near turnovers, were ugly. His lone made 3-pointer received one of the loudest crowd pops of the night, with less than three minutes remaining in the fourth quarter.

On Sunday night, his offense more so resembled what he had displayed during his exhibition games against G-League Ignite when he scored better than 35 points in both games. Wembayama scored 27 points on 64 percent from the field and 50 percent from three. In the fourth quarter, he missed only one field goal as the San Antonio Spurs furiously rallied from a 16-point deficit that fell short against the Portland Trail Blazers.

The contest jump shots and the alley-oop to himself off of straight vertical were spectacular on Sunday, but in both games, it was clear why he received the "can't miss prospect" designation. Wembanyama plays like a fully extended Stretch Armstrong that is perfectly in control of all of his extremities.
He does not lumber up and down the court, he strides. Sure he dribbled into trouble on the perimeter a few times, but the fact that he is slightly shorter than Boban Marjanović and still has a legitimate crossover dribble is astounding.

Then there is the defense. Alert to all NBA players, if Wembanyama is closing out on you eject on any thoughts of a shot attempt. Those super-sized baguettes are going to either block the shot or severely alter the attempt. Brandon Miller — the 6-foot-9 No. 2 overall pick — found that out the hard way when Wembanyama blocked one of his 3-point attempts.

In a half-court set, Wembanyama can be the stick in the opposing offense's spoke at any moment. Anthony Davis and Joakim Noah being able to play in the paint and still contest jump shots is impressive. Watching Wembayama do it is mind-boggling because he makes covering 15 to 20 feet of ground appear effortless.

He has a lot of work ahead of him in order to maximize his potential. Wembanyama will have to go through the process that many NBA stars have before him in order to build an NBA body. Also, his ability to initiate the offense as a ball handler should be used as a luxury instead of a principle. A fact I am certain has not escaped five-time NBA Champion head coach Gregg Popovich.

All the pieces are there with Wembanyama for him to be the highest evolution of athlete on the planet. In 19 years he has developed a true skill and feel for the game to accompany his physical gifts.

Like Willamson before him, it didn't take too much time in Las Vegas for it to be clear that Wembanyama is a player like the NBA has never seen. The young Spur had a rough shooting night in Game 1, but blocking a shot with a forearm is quite impressive.

The only way that he will be stopped is by misfortune or mismanagement, because all the pieces to construct a legend are in the box.