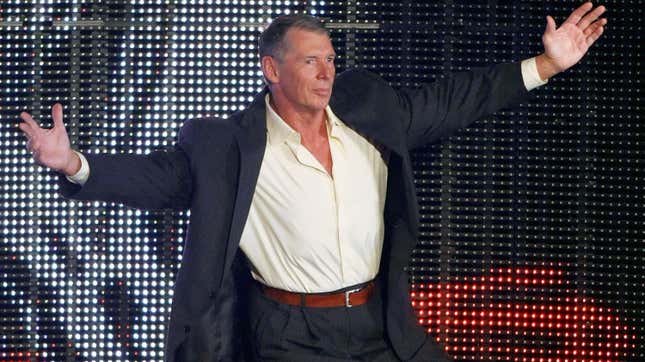 The idea that Vince McMahon would return to WWE in some capacity has always hung in the air like a rancid fart from the very moment he was forced into retirement. We didn't need the whispers or reports or anonymous tips, because we all knew that man with the stubbornness level of a roided-up mule (and matching sense of the world at large) was never going to just accept being forced out. Even if it was more than deserved, and it most certainly was in McMahon's case, consequences aren't something an individual like McMahon, who genuinely believes he's on a higher plane simply due to his bank account, is ever going to believe are real.

Is Vince McMahon returning to WWE?
We just might not have anticipated that McMahon would take his own company hostage to return.
McMahon's legal wranglings
The key to all of this, for anyone who tends to go a little glazed over with any lengthy discussion of boards and shares and business practices, is that McMahon is still the majority shareholder of the company. Which means he still wields a lot of power, even if he isn't the day-to-day shot-caller anymore. And because of that status, he has declared that he will not sign off on any media rights deal or sale of the company unless he is installed as the executive chairman. He's also filed paperwork to appoint himself to WWE's Board of Directors.
His timing is certainly apt, as both of WWE's TV deals with Fox and NBC are up in the fall of 2024, which means negotiations on the next one will start soon. Which also means any potential sale of the company could come soon as well, so McMahon is going to insert himself right into the middle of either or both.
The funny thing is that McMahon's presence almost certainly lowers the value of any TV deal, because networks won't exactly be dying to be associated with someone paying hush money to various women who worked for him, thanks to being unable to keep it in his pants, as well as a couple sexual assault accusations. Though that didn't really hurt WWE's stock prices as news of McMahon's return slithered out, thanks to the idea of a near-future sale.
McMahon said in a statement that he will not be usurping control of the on-screen product or creative from son-in-law Triple H or anyone else. But it's not like McMahon is known for sticking to his word or even being aware of what his word was previously. He's about as unpredictable as it gets, so anything could happen.
In a nutshell, McMahon is basically telling WWE that if he can't run it, no one is going to, and is forcing his way back into the captain's chair to permanently remove everyone from the bridge. While his cover story is that the on-screen and live product won't change, there won't be a fan or wrestler who will truly believe that. Everyone is going to be on eggshells if Vince is anywhere near the company.
Still, McMahon has the carrot of what a sale would mean to the coffers of any of the board or shareholders, should he engineer the sale he claims he's riding in like a juiced, senile calvary to make. The company is valued at around $5 billion, and some people at the highest levels of Titan Towers are going to have their eyes do that cartoon popping thing when seeing that total.
Is McMahon the kind of man to utterly destroy the progress the company has made in his absence, against the wishes of pretty much there now? Pretty dumb question, isn't it?
Canada gets its facade
The World Juniors ended last night, with Canada once again needing a gimmick overtime 3-on-3 goal to brush away a far less talented opponent, this time Czechia, to claim the gold medal at the tournament. As previously stated in these halls, Hockey Canada should never have had the opportunity to host or participate after the detritus their organization has chucked into the air had come to light.
Right on cue:
All the IIHF cared about was two consistently sold-out buildings after they had to move the tournament from Russia, and that's what they got. All Hockey Canada cared about was getting two weeks or so of getting to say, "Hey look over there!" while Connor Bedard made everyone forget what the logo on his jersey had come to stand for over the past year, as he scored 74 goals during the tournament or whatever it was. Everyone got to pretend everything was ok or now solved.
The wager is they'll keep doing so too.
Jim Harbaugh is calling Best Quality Vacuum
It's almost always automatic that when a college coach is heavily rumored to be open to an NFL job, he knows the mess he's created in whatever college town has become unmanageable and the goggles will do nothing.
Harbaugh won't have to change his identity or life, but he will get out of dodge before the shit has its performance review with the fans. He'll get a handsome reward for doing so too. Pretty nice gig if you can get it, and an even nicer one when you can get a higher-profile gig afterward and leave your chemical spill for someone else to clean up.