This might still be nothing. It seems to have started with a rumor circulating among wrestling types on social media, and then was reported by someone named Brad Shepherd Friday afternoon: Vince McMahon may be relaunching the XFL, the very, very failed football league that played a single season back in 2001.
Jokic? Embiid? The NBA MVP is obvious... right? | Keep it a Buck(et)
Depending upon what you believe accounts for the decline in NFL viewership in 2017—remember, there's been a corresponding drop in participation in 11-player football in American high schools, which last year saw the lowest level of participation in more than a decade—the stage would seem to be set for a major push to soak up some of the NFL's lost shine. The XFL's pitch last time around had to do with player safety precautions softening the NFL's product, whereas the XFL would ramp up and accentuate football's inherent violence. One would assume that violence would remain central to its appeal, although certainly all the bleating about NFL player activism would seem to have created another opening, of an uncertain size, for an even more cynical operation than Roger Goodell's.
The XFL got some things right: nickname jerseys are cool, and both the NBA and Major League Baseball have monkeyed around with the idea in the years since; the XFL was ahead of the NFL in observing that the point-after kick, as then practiced, was dumb and needless; and the XFL got to the "sky cam" ahead of the NFL. But it also bombed out of existence, reportedly losing $70 million in its single season before folding up its operations. The football was poor, and the campy, over-the-top presentation didn't come close to making up the difference.
G/O Media may get a commission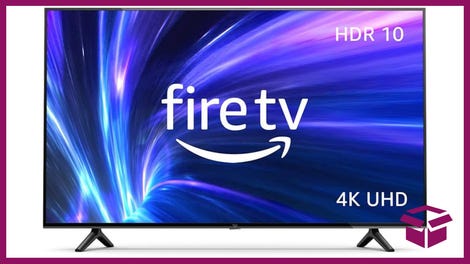 42% Off
Amazon Fire TV 50" 4K Smart TV
So, what would it mean to relaunch the XFL? Well, for starters:
This could be a thing. It is at least something to keep an eye on. Some very prominent American dipshits are clamoring for a professional football league that embraces violence and practices tighter control over player behavior. This would almost certainly be that.