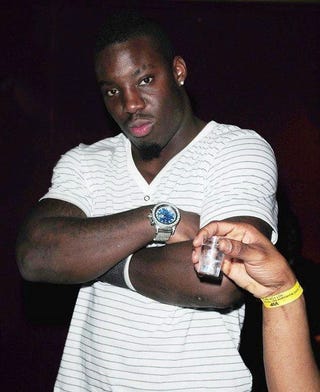 Because EVERYTHING IS HAPPENING in sports right now, this one has kind of passed under the radar. It shouldn't. When an NFL team finally gets its first win, and does it without its starting cornerback because said cornerback had a really wicked hangover, it is time for celebration. Break out the champagne.
So Vontae Davis tried to kill Brandon Marshall; who hasn't? The real reason Davis didn't travel with the team to Kansas City, according to the Miami Herald's Armando Salguero, is because he was a goddamned wreck Saturday morning.
The Dolphins believe Davis was drunk the night before the Saturday practice to which he was late. And when he showed up at the Miami facility, a source said Davis had the smell of alcohol and was suffering from an apparent hangover.

Davis and several other teammates had apparently been out late Friday. Davis was the only one late.
Whatever happened, it worked. If only the Dolphins could have a hungover player, and use him to send a message, and then play the Chiefs every week.
Dolphins believe Davis was drunk night before practice [Miami Herald]