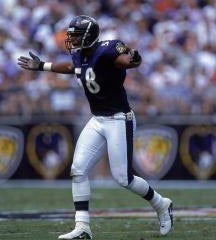 When we think about NFL players of the last 10 years or so we'd imagine running for office someday, we can't say that former Ravens linebacker Peter Boulware was the first guy to come to mind. He's never had any problems in his life or anything; it's not like Michael Irvin or anything. (Or, you know, been charged with murder around the Super Bowl.) But we just never imagined him having those kind of ambitions.
But listen up, folks: Boulware is running for the Florida State Legislature, and he's even pulled a Bloomberg and switched his party affiliation.
''I grew up a Democrat and went through college and at the end of it I started just listing the things that were important to me,'' he said. ''As I listed those things and started comparing myself to the Democrat and Republican Party I found myself leaning more toward the Republican Party. That makes me a Republican, I guess.''
Yes, Peter. That's called "getting rich." It happens when you play football. Well, OK, when you play football; most football players, when they're done, can't hug their kids.
Boulware Plans To Sack Dems [Lion In Oil]