Tipster Kevin alerts us to an ongoing case in Montgomery County, Ohio, in which an affiliate of Wachovia/Wells Fargo is suing a familiar name—defendant Stephon X. Marbury.
Last we checked in with Starbury, things had gone somewhat off-script: His Chinese basketball team dumped him, but he had caught on with another team, and his business ventures were all doing well. Wrote Wells Tower in GQ, "To cover the $2.2 million promised by the owner of the Brave Dragons, Starbury Corp. briskly liquidated Marbury's $75 million real estate business."
Well, the bank liquidated at least one piece of that real estate for Marbury, through foreclosure.
More from the lawsuit, available via the Montgomery County Clerk:
17. Borrower has defaulted on its obligations under the Note and Mortgage by, among other things, failing to make payments when and as due, and failing to apply the rents, issues, profits, and revenues received for the Property after the occurrence of an Event of Default for the ordinary and necessary expenses of owning and operating the Property or remitting the rents, issues, profits, and revenues received for the Property after the occurrence of an Event of Default to the Lender.
18. The balance due and owing on the Note, as of September 11, 2010, is the principal balance of $16,063,179.49, together with default interest, late charges, sums advanced for the protection of the Property, attorney's fees, and all other sums due under the Note, the Mortgage, and other applicable loan documents.

19. On or about November 8, 2010, Plaintiff commenced litigation in this Court captioned as WBCMT-2007-C31 Kingsridge Drive, LLC v. Starbury GSA IV, LLC, et al., Case Number 2010 CV 08836 against Borrower and other defendants to foreclose the Property serving as security for the obligation ("Foreclosure Action"), and judgment of foreclosure in rem was rendered against Borrower on May 19, 2011 in the total amount of $21,742,461.12, plus interest, late feees, attorney's fees, costs, and amounts which Plaintiff may advance for the preservation of the Property.
G/O Media may get a commission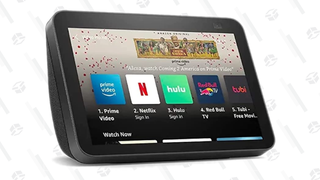 Essentially, Marbury guaranteed a $16-million loan to Starbury, the company. Starbury the company hasn't paid the loan back, so now Starbury the former Knicks point guard has to. The collateral he put up for the loan only covered a small part of the judgment against him. That $75 million in cash would come in handy just about now.