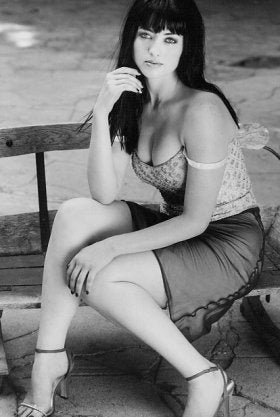 The Cowboys' hiring of Wade Phillips as their new head coach drew an underwhelming response from the general public. Reactions ranged from yawns to "What the?!" to "At least it's not Norv Turner." There was a distinct lack of enthusiasm or glee.
And that's why Wade Phillips should've brought his daughter to the press conference. Meet Tracy Phillips, actress, dancer, Bum's granddaughter, and Wade's daughter.
Her IMDB page shows that she's starred in well-known films such as "Ides of March," "42K," the yet-to-be-released "Dark Streets" and she was an uncredited dancer in "Clerks II." She's danced in a number of music videos, for people like No Doubt, the Goo Goo Dolls, Ricky Martin and Will Smith. She will also be starring in wide array of erotic fantasies had by me.
It brings to mind Talladega Nights, when Ricky Bobby said to Chip, "All you ever done was make a hot daughter. That's it!" NFC East opponents should play that clip on their Jumbotrons.
10 Questions with Tracy Phillips [Sports Hollywood]

Tracy Phillips (II) [IMDB]

Could Wade Phillips' Daughter Be a Cowboys Cheerleader? [NFL FanHouse]