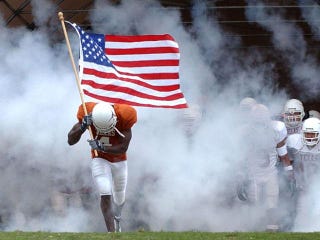 Here is your designated space to chat about all things college football. Please join us, won't you?
12:00 pm
Michigan and Iowa kick things off for us this afternoon on ESPN. Texas Tech heard The Dude himself would be playing Austin City Limits today, along with Miranda Lambert (???). So they figured—two birds, one stone— let's play the Longhorns, too. Unfortunately, the Live Music Capital Of The World's signature music program is taped in advance, so, no The Dude. No Other Lady. "This is a bummer, man—that's a bummer."
Louisville and West Virginia square off in what could be a Big East matchup? Who really knows at this point? Also at the reasonable time of 12:00 pm, Indiana and Ohio State play on the Big Ten Network. Florida and Vanderbilt, however, can be seen on the SEC Network at the patently absurd time of 12:21 pm.
12:30 pm
Big time ACC football is headed your way! North Carolina takes on North Carolina State and Virginia travels to Maryland. Get. Excited. Ok, that's it. Elsewhere, New Mexico at Georgia, Kansas at Iowa State and TCU at Wyoming round out our early noon-ish action.