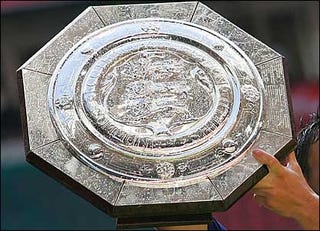 The sun is already rising on a new season in the Barclay's Premier League. The annual Community Shield match is underway at Wembley stadium pitting Machester United against Chelsea, the champions of last year's league title and FA Cup respectively. While the result of today's match won't be reflected in the league standings it's about as far away from a "friendly" as any exhibition can be. The winners will get a big boost heading into the new season and they'll be able to hold the Community Shield high over the heads of their opponent. Manchester and Chelsea are expected to spend the subsequent months in a fierce battle for the league title and it all begins here.
I suppose the natural inclination would be to compare the Community Shield to tonight's NFL Hall of Fame Game that's hardly fair. Both Manchester and Chelsea have arrived at Wembley with a fixed roster of star players who are fit and prepared for world-class competition. On the other hand the Steelers and Saints will be arriving with bus-loads of future gym teachers who may or may not have learned each others names. I
Next week the season gets underway for real with Chelsea traveing to Birmingham while Manchester starts off against Reading. Feel free to get the shit-talking underway in the comments—but please mind the eye-gouging.