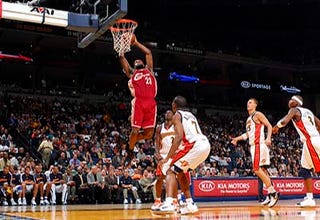 • Who Still Believes? A glaring absence of celebrity fans on Tuesday in Oakland, as the Warriors dropped to 0-4 with a 108-104 loss to the Cavaliers. My yellow "We Believe" T-shirt has only been worn once, and already is in danger of becoming obsolete. In the meantime, let's let Golden State of Mind talk about seeing LeBron in person:
I have to say that watching him on tv does not do him justice. He has such an amazing presence on the court and affects the game in so many ways. I don't think I ever truly appreciated his greatness until tonight. His near triple double may have something to do with it, but even still, he's one of those players that you just can't take your eyes off. Everything in basketball comes to him so easily. No look behind the back pass in traffic? No problem. Silky smooth. Hustle back on D to prevent a fast break layup? No problem. Heck he even puts on a show during warm ups with some dunks and alley oops.
LeBron had 24 points, 14 rebounds, nine assists and three blocked shots. Baron Davis had had 29 points and 10 assists for the Warriors, who are playing so far as if the playoff win over the Mavericks is good enough to hold them for a couple of years.
• Houston Wins At Home? Yao Ming had 28 points and 13 rebounds to lead the Rockets over San Antonio 89-81. The Spurs dynasty is dead! (Just chiming in so I won't feel left out).
• Peja Makes It Rain. Just when he thought he had things figured out, Kobe Bryant took only 20 shots and scored 28 points in a 118-104 loss to New Orleans. Leading the winners were Peja Stojakovic, who made a franchise-high 10 3-pointers, and Chris Paul, who broke the franchise season mark with 21 assists. Oh by the way, if you thought gas prices were high ...
• Presenting Your Undefeated LA Clippers. Cuttino Mobley scored 33 points and Corey Maggette had 18 points, 10 rebounds and five assists to lead the Clippers over the Bulls 97-91. Frankie Muniz says shove it, Nicholson! (Then runs).