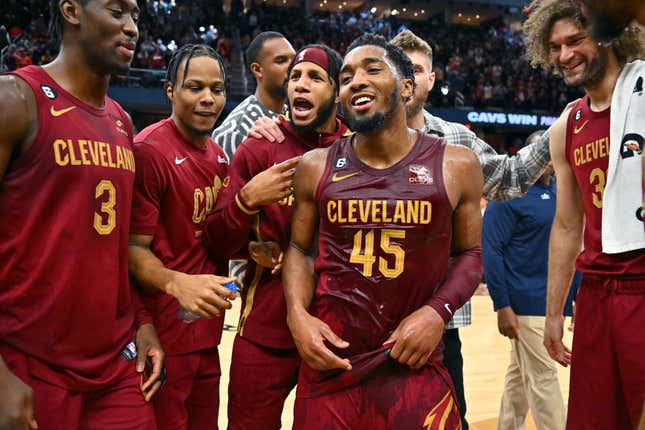 In one of the NBA's more conspicuously timed sequences, the Cleveland Cavs were "randomly" drug tested just hours after Donovan Mitchell's 71-point performance Monday night. It feels all too convenient for the association to "randomly" test the Cavs for performance-enhancing drugs one day after Mitchell scored the most points in a game since Kobe Bryant's 81-point output in 2006.
Is 60 > 71? Debating Luka Dončić and Donovan Mitchell's record breaking games
We see so many individual high-scoring totals in the NBA regularly, yet this time a team is "randomly" tested for PEDs. You'd be foolish not to wonder about the validity of this round of testing following Mitchell's game of his career. It's not like he's been a player barely scraping by in the league for five years, then all of a sudden, BAM! Out of nowhere, he scores more points in a single game than Michael Jordan or LeBron James have ever done. Spida isn't one of those guys, but he's been one of the better young stars in this league since he entered in '17.
Setting a new precedent
Saying this specific testing was random will only lead people to wonder how "random" these tests are, to begin with. Luka Dončić scored 60 points a few days before Spida's career-high, and there was no news of random testing for the Mavs the next day. Dončić is held in higher regard around the NBA and by fans, but facts are facts.
Last March, we saw Kevin Durant and Kyrie Irving drop back-to-back 50-point gems. Irving scored 60 in his outing against Orlando and had another 50-point game one week earlier. No random testing was reported after those games, and certainly not after the duo's back-to-back masterpieces. Not to say the league is targeting anyone, but the timing here is weird enough to be questioned.
Tainted by testing
Mitchell's amazing game is now tainted, even if only a little, due to the testing that followed. Most of us don't think he's using banned substances, but there's always that doubt that creeps in whenever we hear the word PEDs in relation to professional athletes. This isn't as prevalent in basketball as in baseball or football, but it's undoubtedly a trigger for most whenever the acronym is uttered.
When speaking of PED use, basketball players are the last to enter the conversation about athletes and banned substances. But the NBA has had its share of players test positive for drugs on their PED list. Rashard Lewis is the name many remember as he was popped in '09, missing 10 games. In 2019 Deandre Ayton, John Collins, and Wilson Chandler were suspended for violating the NBA's PED policy. Whether they were taken on purpose or claimed to have been unintentional, they were caught and suspended.
So, while there is an issue with substance abuse in the NBA at times and in society at large, the timing of Mitchell's testing is too peculiar. Hopefully, there is nothing there with Spida or any of his teammates that could derail their great season. The Cavs are currently sitting in fourth place, just a couple of games out of first place in a loaded Eastern Conference.