Russia's Adelina Sotnikova delivered a shocking upset Thursday, when she–not reigning world and Olympic champion Yuna Kim, not former world champion Carolina Kostner, not even 15-year-old Yulia Lipnitskaya, who had been pegged for weeks as the co-favorite–won Olympic gold in women's figure skating. The decision was immediately controversial, and surely will inspire yet another hearty debate about the judging system. Isn't figure skating fun?
The best sports movies according to Toheeb Jimoh
The 17-year-old dark horse stole the crown from South Korea's beloved Kim, who placed second despite a clean and technically excellent program. Italy's Carolina Kostner, the 2012 world champion, placed third, becoming the first Italian woman ever to win an Olympic medal in figure skating. America's Gracie Gold finished just short of the podium, in fourth place, after a fall, and Lipnitskaya, who also fell—again—followed in fifth. Japan's Mao Asada–who landed her triple axel and delivered a beautiful, redemptive, and powerful program–came from 16th place after the short to finish sixth overall, a huge disappointment for the woman many expected to end up on the medal stand.
But after Sotnikova's exceptionally and curiously high-scoring free skate performance, all eyes were on Kim, skating last, to Astor Piazzolla's tango, "Adios Nonino." Her performance was lovely, but she looked a little bit stressed. As she left the ice, she seemed to sense that the skate hadn't been enough. And according to the judges, it wasn't, not by a long shot: Sotnikova, whose performance was aggressive and difficult, beat her by 5.48 points.
Immediately following the announcement of Kim's score–and Sotnikova's subsequent gold–commentators and fans went wild chasing a "hometown cooking" conspiracy theory. America's Ashley Wagner, who placed seventh overall, told reporters she was speechless about the result, and went so far as to call for an end to anonymous judging. And an American figure skating columnist called attention to one of the judges' former suspensions–for trying to fix an event at Nagano–and to the fact that another judge's husband is president of the Russian figure skating federation.
G/O Media may get a commission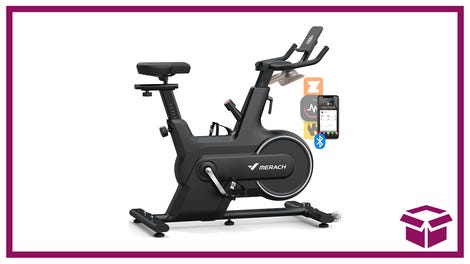 14% off + Coupon
Merach Indoor Cycling Bike
We'll let the on-the-ground reporters in Sochi investigate whether or not the fix was in. But it didn't have to be a fix for Sotnikova to win. Here's why.
All of the top three ladies skated two clean or nearly clean performances–which means their final placements came down to how difficult their programs were and how well they skated them. So far, points for Sotnikova: With seven triple jumps, including a difficult triple lutz-triple toe loop combination, and three level-four spins, her program had the highest base value, at 61.43 points. Kim performed the same triple-triple combination as Sotnikova, but her program had a total of only six triple jumps, and one of her spins was rated a level three–so her program was valued at 57.49 points. Kostner performed three level-fours pins and seven triple jumps total, but she did not complete a triple-triple combination. So her base score was 58.45 points. Setting everything else aside, Sotnikova had the highest ceiling.
Of course, Sotnikova ended up leading Kim and Kostner technically by more than the differences in their base values, which means that, cumulatively, she scored better grades of execution. All three women are very strong jumpers, and Kim and Sotnikova were pretty evenly matched in the GOEs for their jumps. The GOEs for Sotnikova's jumps were consistently higher than those for Kostner, but the latter had a few wobbly moments in the second half of her program, which could explain that discrepancy. But, in terms of GOE, Sotnikova outperformed both women on spins. Sotnikova, like Lipnitskaya, is incredibly flexible—being 17 doesn't hurt—and flexibility goes a long way toward getting good scores for spins. Doing a split on one leg? It looks badass, and it's hard. But it's more than that. Having high flexibility enables skaters to spin in especially unique formations–formations that are physically impossible for 99.99 percent of the world, because we have bones. So Sotnikova, who had a few of those funky spins scattered throughout her program (including a one-handed Biellmann), made up for a bobbled jump with some really high GOEs on her spins.
But the technical marks were not the especially controversial ones. Among the top three ladies, Kim, and especially Kostner, are famous for grace, elegance, and fluidity on the ice–characteristics that are largely judged in the program component score, which makes up about half the total. And while it's not like Sotnikova is perceived as a galumphing elephant out there, she's never earned the reputation for artistry that would suggest she's a match for Kim or Kostner in this department. This is why it was scandalous when Sotnikova outscored Kostner–the queen of musical expressiveness–and came within a point of Kim in the program component score.
Kostner fans were outraged, and understandably so. The 27-year-old Italian, whose main problem is usually consistency, skated two programs that were not just clean but mature, confident, and lyrical. (Today, she skated to Bolero, which is a bold move, considering that ice dancing champions Torvill and Dean are still famous for their 1984 rendition.) Sotnikova was spirited and energetic, but she didn't seem to particularly connect with the music. And yet, Kostner earned the fewest points in the program component score.
Are these the scores I would have given out? No, but I'm watching this competition in bed, with my cat. There's so much room for subjectivity. There are five different categories that make up the overall program component score, and for each there's a long list of criteria that should theoretically be met in order for a skater to be awarded a perfect 10. But it's not like the judges have to break down the reasoning behind these scores; they can weight some criteria more heavily than others–consciously or otherwise–and besides, no one can ever prove them wrong on something that is by definition a matter of taste. So for example: Kostner, Sotnikova, and Kim all earned the exact same mark–9.43–for their performance/execution in the free skate. There are six criteria for this mark: Physical, emotional, and intellectual involvement; carriage; style and individuality/personality; clarity of movement; variety and contrast (in tempo, rhythm, how you use your body, etc.); and projection, which is defined as when the skater "radiates energy resulting in an invisible connection with the audience." So even if Sotnikova didn't hit on some of those criteria to the extent that her rivals did, she did create an unparalleled connection with the audience. I mean, obviously that was because she's Russian, and it was a Russian crowd, and they were rooting for her! But you see how these scores can be justified. And that's just one category. That doesn't mean it's right, or fair, but I've long since ceased to expect right and fair from figure skating judging.
In the end, it's the Olympics, where this kind of outcome–in which the favorite is upended by a spunky upstart who captivates the crowd with the skate of her life – is actually pretty common, no matter the nationalities. And Sotnikova certainly had the skate of her life.
---
Lucy Madison is a NYC-based writer and reporter. Her work has appeared at the Awl, the Hairpin, Interview, CBS News, and more. You can follow her on Twitter here.