Your morning roundup for Sept. 29, the day we learned rotting fruit was an aphrodisiac. Video via Midwest Sports Fans. Got any stories or photos for us? Tip your editors.
What we watched: What we watched? What else?
11:59 BAL Nolan Reimold double ties game in bottom of ninth
12:02 BAL Robert Andino game-winning single: Orioles win 4-3
G/O Media may get a commission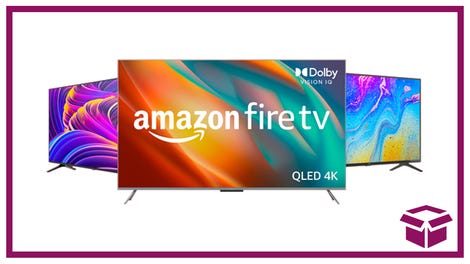 Ooh. stunning.
New Amazon Fire TVs
A minute later, the Orioles were piled on top of one another in the infield, and I was so caught up in the "holy fucking shit!" of it all that it took a beat before I realized just how weird and ultimately great it was that a 69-93 team finished the season in a dogpile. Then:
12:05 TB Longoria game-winning homer: Rays win 8-7 in 12
Baseball told a story all on its own last night. You didn't need George Will or Ken Burns to dress up the occasion with all sorts of half-assed cosmic frou-frou and faux-poetic gibbering. You didn't need Dan Shaughnessy yammering about curses. You didn't need to have watched the game with your dad. It's all there in the play-by-play. I'm trying to think of a more satisfying six minutes of baseball, and I'm failing. (Tommy Craggs)
Elsewhere
Matt Silver sort of called Dan Johnson's shot: "Team president Matt Silverman pulls out his smartphone and shows a text message Sternberg sent at 10:30 p.m., before the start of the ninth inning: 'Will come down to my man Dan' Sternberg was referring to Dan Johnson, who three years earlier hit the most famous home run in team history to tie a game in the ninth against the Red Sox and propel the Rays on to their first American League East division title. As if on cue, manager Joe Maddon sent Johnson to the plate to pinch-hit for Sam Fuld." [St. Petersburg Times]
Nate Silver does the math: "The following is not mathematically rigorous, since the events of yesterday evening were contingent upon one another in various ways. But just for fun, let's put all of them together in sequence: The Red Sox had just a 0.3 percent chance of failing to make the playoffs on Sept. 3. The Rays had just a 0.3 percent chance of coming back after trailing 7-0 with two innings to play. The Red Sox had only about a 2 percent chance of losing their game against Baltimore, when the Orioles were down to their last strike. The Rays had about a 2 percent chance of winning in the bottom of the 9th, with Johnson also down to his last strike. Multiply those four probabilities together, and you get a combined probability of about one chance in 278 million of all these events coming together in quite this way. When confronted with numbers like these, you have to start to ask a few questions, statistical and existential." [FiveThirtyEight]
Your Fly Fishing Interlude:

Tampa's schadenfreude: "The Orioles beat the Red Sox on Wednesday with a two-run, ninth inning rally that began with two outs. The winning run scored when left fielder Carl Crawford, the former Ray who took Boston's big money last December, couldn't come up with a game-saving catch. You want more irony? That fence in left field at the Trop was shortened a few years ago per Crawford's request. Seemed he wanted to rob a few hitters of home runs. 'God bless that little short wall in left field,' Ben Zobrist said." [Tampa Tribune]
FanGraphs asks a few existential questions: "So, what does that mean for a site that prides itself on accurate projections and analysis? No matter how close we come to finding the most accurate data available; there's still a significant portion of the game that we cannot predict or analyze. These intangibles lead to unpredictable results - and while they might throw off our projections and occasionally come back to bite us; I would argue that these are the situations that drive us as analysts of the game." [FanGraphs]
There is crying in Boston, apparently: "There was no chair-throwing in the locker room, no snarling at the media, not too many excuses. Fighting back tears, general manager Theo Epstein said it best. 'We did it to ourselves. We put ourselves in the position to have it settled on a crazy night,'' Epstein said. 'A 7-20 month, there's no excuse. If we'd gone even 9-18, we'd be where we want to be.''" [MassLive]
The view from St. Louis: "A team that spent most of August in a funk danced on champagne-soaked carpet for more than 45 minutes after the Phillies finished the Braves in 13 innings. The Rafael Furcal-inspired anthem, 'Happy flight! Happy flight!' filled the room as one by one players sought out La Russa for a hug. An impromptu hit squad was assigned to douse general manager John Mozeliak, whose combination of moves approaching the July 31 non-waiver trade deadline July 31 salvaged the season." [St. Louis Post-Dispatch]
And from Atlanta: "This became the game these Braves had played from April through the August: Tim Hudson gave them 6 1/3 innings textbook innings, and then the once-bulletproof bullpen took the baton. Eric O'Flaherty needed two pitches to induce Shane Victorino to hit into a double play to end the seventh. Jonny Venters walked/plunked the bases loaded in the eighth but struck out Raul Ibanez on three pitches. Then it was the ninth and the kid closer entered to do as he'd done all season. Instead Craig Kimbrel, who'd blown two saves this month, blew another by slinging the ball around like a bad point guard. He yielded a leadoff single to Placido Polanco, walked the bases loaded, saw Chase Utley drive home the tying run with a fly ball and walked Hunter Pence to boot. The bulletproof bullpen had been hit." [Atlanta Journal-Constitution]
The "Muni-Lot Madness" has not gone unnoticed: "Meantime, the Browns have released a statement reading, 'We strive to create a fan friendly environment at the games or surrounding the stadium. We work with the city to limit that type of behavior.'" [Fox8]
Merch: Managing editor Tom Scocca and contributing editor Drew Magary have both written books. You can buy Scocca's Beijing Welcomes You: Unveiling the Capital City of the Future here, and Magary's The Postmortal here. Now do it.
Send stories, photos, and anything else you might have to tips@deadspin.com.